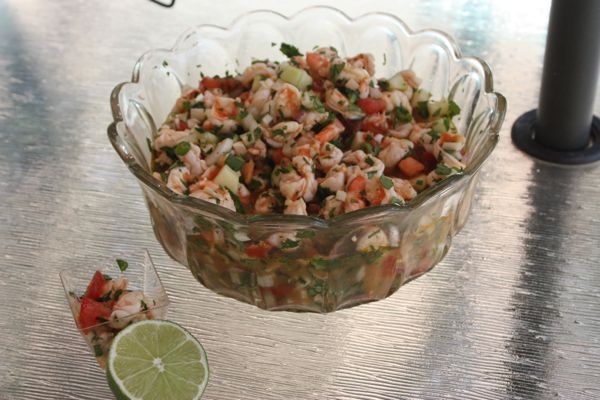 I am catering a wedding this week. For the wedding, I'm responsible for appetizers. Since I've been doing lots of appetizers for other catering gigs, it seemed like a straight forward catering gig. I asked the Bride-to-be what she wanted and offered a few suggestions. As we talked through the menu, she mentioned that she would like a few "wow" items. I had one idea that I thought would be a good "wow," but I knew I would need to find something new to add to my repertoire.
One of my suggestions was shrimp cocktail which while delicious, is a standard enough sort of dish so I didn't think it would qualify for a "wow." I do like shrimp as a protein so I thought that would be a good choice if I could find something with a bit more "wow." A few weeks ago, I saw a shrimp ceviche on Pintrest that looked good and saw a fish ceviche on one of my favorite cooking shows on TV. I knew it was time for me to give it a try.
For memorial day we were going over to share time with family and it seemed like a good time to do a dry run to make sure the recipe in question worked. I combined two recipes I found online and the ceviche was a big hit. Jeffrey even ate the cucumber in the recipe without complaining which is a minor miracle. This recipe takes a bit of time, but the bright flavors are certainly worth your time and are sure to "wow" (or at the very least please) the food critics at your house. As a serving suggestion, I liked offering the ceviche with blue corn chips as the colors went together very, very well.
Shrimp Ceviche
Printer Friendly Recipe
Ingredients:
1/2 cup fresh orange juice (1 Orange)
1/2 cup fresh lemon juice (2-4 lemons depending on size and juiciness)
1/4 cup fresh lime juice (2-3 limes depending on size and juiciness)
1/4 cup ketchup
3 cloves garlic, minced
2 pounds shrimp, peeled, deveined and halved lengthwise
1/2 cup diced white onion
1/2 cup diced red onion
1 green onion, thinly sliced (white and green parts)
3/4 cup diced tomato, seeded
1/4 cup minced cilantro
1/2 cup seeded and diced cucumber
1/2 cup jicama diced
1 Tablespoon diced jalapeno, seeded
1 Tablespoon olive oil
1 Tablespoon hot sauce (I used red Tabasco)
2 avocados, diced
Directions:
Clean and peel your shrimp, removing, tails, and veins. Slice them in half lengthwise. Combine the citrus juices, ketchup, and garlic in a medium-sized sauce pan. Bring the mixture to a boil. Cook the shrimp in the mixture in your pan for 3 minutes. You may need to stir this just a bit to make sure all the shrimp have cooked. Drain the shrimp reserving the liquid. Place the shrimp on a plate and move the plate into the refrigerator and then take the reserved liquid (in a bowl) and put it in the freezer for 30 minutes. While these ingredients are cooling, prepare the veggies and other flavors.
Combine all of the ingredients in a measuring bowl (if you won't be putting the avocado in the liquid, wait on it until the end to make sure it does not oxidize).
Finally, after your shrimp and liquid are chilled, combine the veggies, shrimp and liquid in a bowl. If you haven't added the avocado to your veggies, dice them and add them at this point. Serve cold!