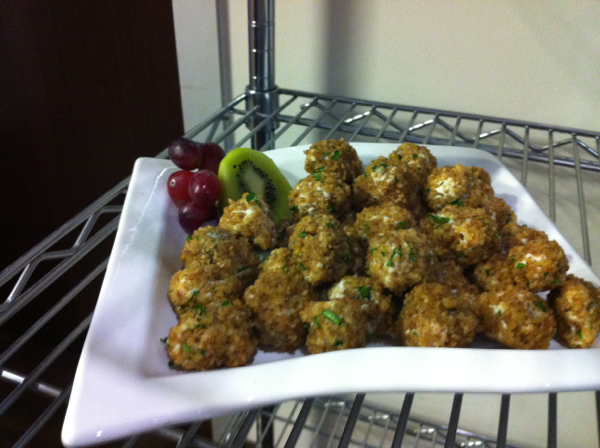 This recipe is an adaptation of a recipe I found online from Giada DeLaurentis. I had an abundance of grapes and goat cheese in my refrigerator and was looking at a way to use them for a catering event. I will be honest that I was a little apprehensive when I first put the ingredients together, but once I took the first bite I knew I had nothing to worry about. The flavor combination was fantastic! They were a huge hit.
Not only was the flavor excellent they were quite the sophisticated appetizer and fairly easy to put together. The only time consuming part is rolling them in the finely chopped walnuts. (I actually made 6 batches and would definitely make them again even although probably not on that scale.) If you are looking for a fun appetizer for a shower, brunch or evening get-together these would be a great addition. You will get lots of compliments!
Walnut and Chèvre Grapes
Ingredients:
2 ounces cream cheese, at room temperature
2 ounces goat cheese, at room temperature
1/4 cup heavy cream
approximately 20 seedless red grapes, chilled
1 cup (4 ounces) finely chopped walnuts, toasted
2 tablespoons sugar
2 tablespoons chopped fresh flat-leaf parsley
Directions
Line a small baking sheet or baking dish with parchment paper. Set aside.
In a food processor, blend together the cream cheese, goat cheese, and heavy cream until smooth. Transfer to a medium bowl. Add the grapes and stir until coated with the cheese mixture.
In another small bowl, mix together the walnuts, sugar, and parsley.
Using a fork, transfer the grapes, one at a time, to the walnut mixture and gently roll in the mixture until coated. Place the grapes on the prepared baking sheet. Refrigerate for 2 to 3 hours and serve.