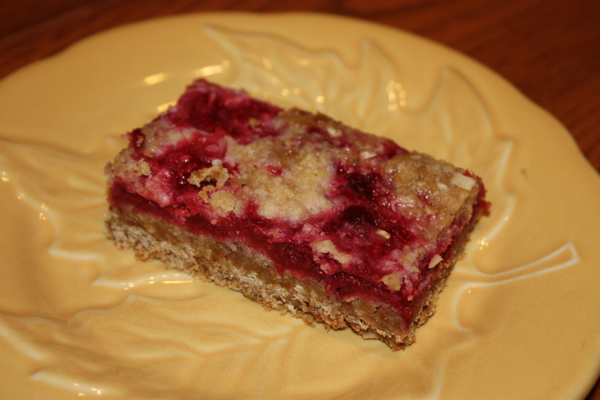 Anyone who knows my family knows we love berries; raspberries being top of that list. As soon as I saw this recipe I knew I had to try it. Knowing that we would have a busy weekend of soccer games and events, I thought these would make a great treat for us. I also always like to have a goodie on hand that can be a nice treat in-between meals when you need a quick bite. These were just the treat!
They were perfect alongside my cup of coffee in the morning but also made a great afternoon snack. They are not too sweet and are just the right tartness in my opinion. Tyler (our raspberry purist) informed me that these were too lemony for his taste. (Jeffrey found this quite amusing and wondered what it said about us that our 7 year old was already quite the food critic.) If you have any local food critics, you really should try this recipe out and see what they think.
Raspberry Breakfast Bars
For the crust and topping:
1 1/2 cups all-purpose flour
1 cup firmly packed dark brown sugar
1 1/4 cups rolled oats
3/4 teaspoon salt
3/4 teaspoon baking powder
1/2 teaspoon baking soda
1/2 teaspoon cinnamon
3/4 cup (1 1/2 sticks) unsalted butter, cut into 1-inch pieces
For the raspberry filling:
1/4 cup firmly packed brown sugar
1 tablespoon grated lemon zest
1/2 teaspoon cinnamon
2 tablespoons all-purpose flour
1 pound raspberries, fresh or frozen (I used just over a pound of frozen raspberries.)
1/4 cup fresh lemon juice
2 tablespoons unsalted butter, melted and cooled
Directions:
Make the crust and topping mixture:
Preheat the oven to 350°F. Line a 9 by 13 with parchment paper, allowing the paper extend up the sides of the pan. (This will add in easy removal of the bars from the pan.) Spray the parchment and any showing part of the pan with non-stick cooking spray.
Put the flour, brown sugar, oats, salt, baking powder, baking soda, and cinnamon in a food processor. Pulse in short pulses until combined. Add the butter and pulse until loose crumbs form.
Reserve 1 1/2 cup of the mixture and set aside. Pour the remaining mixture of the mixture into the prepared pan and use your hands to press the crust into an even layer at the bottom of the pan. The crust should touch the sides of the pan. Bake until golden brown, 12 to 15 minutes. Transfer to a wire rack and let the crust cool slightly while you put the filling together. Keep the oven on while you make the raspberry filling.
For the raspberry filling:
In a medium bowl, whisk the sugar, lemon zest, cinnamon and flour together. Add the raspberries, lemon juice and butter and use your hands or a wooden spoon to toss gently until the raspberries are evenly coated.
Spread the raspberry filling evenly on top of the crust. Sprinkle the reserved crust mixture evenly on top of the filling and bake for 35 to 45 minutes.
Transfer to a wire rack to cool completely, then cut into squares and serve. Store the raspberry bars in an air-tight container in the refrigerator.