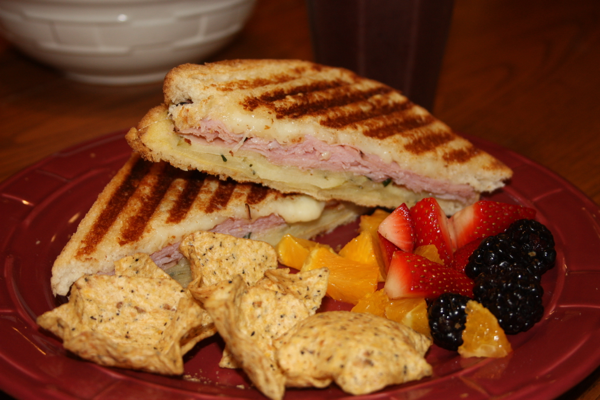 I have to say that having a menu planned out for the week has been a life saver. I am sure it saved me from running for take out a couple of times. We had some of our favorites this week and also added in some new items that will definitely be on a regular rotation at our house.
This panini is one of them. I have mentioned before how we got a panini maker for Christmas. We are still enjoying it and just this week Jeffrey commented on how happy he was with it. I will be honest and say that having a panini for supper seems much more like a meal in my book then if I were to offer a cold cut sandwich. Isn't it funny how the presentation can change our perspective?
This panini is another recipe from my new cookbook by Giada. I loved them! I never would have thought of adding sautéed apples to a sandwich, but it added a sweet flavor and a new texture to the sandwich that I thought was superb. I didn't add the apples to the panini for the boys though they loved their ham and cheese panini. We rounded out our meal with a smoothie, fresh fruit, and some chips with salsa verde. It was the perfect meal after yet another night filled with soccer.
Apple, Ham, and Gruyere Panini
Printer Friendly Recipe
Ingredients:
2 tablespoons unsalted butter
2 Granny Smith apples, peeled, cored, and sliced 1/4 inch thick
1 tablespoon chopped fresh thyme
8 slices country-style white bread
whole-grain or dijon mustard
2 cups shredded Gruyere cheese
1/2 lb. thinly sliced ham
Directions:
For the apples: Melt butter in a large skillet. Add the apple slices and thyme. Cook, stirring occasionally, until the apples are slightly softened, about 4 minutes. Cool while you assemble the sandwiches.
Preheat a panini press.
Butter one side of each piece of bread, if you wanted a buttery outside. On the other side of the bread spread a thin layer of mustard. Top with ham, cheese, and apple mixture. Top with another piece of bread. Place on preheated panini press and grill until the cheese is melted and the tops are golden. (About 4-5 minutes.)
Slightly Adapted from Weeknights with Giada