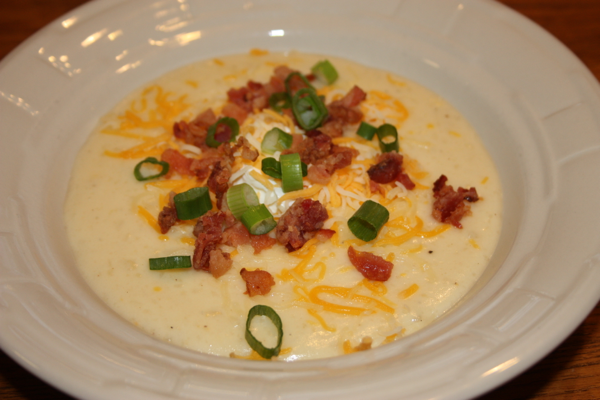 We had a burst of colder weather last week and I decided to take advantage of the cooler temps to make soup for dinner. I was searching the Internet for a great loaded baked potato soup recipe, but didn't really find one that was what I was looking for in a soup. I decided to create my own recipe taking bits and pieces from the variety of recipes found on the Internet.
Since we don't normally eat soup as our main component of the meal, I was a little hesitant when it was time to sit down for dinner. Soup is normally just a side or a part of the meal so I normally have something else to fill William and Tyler's bellies even if they don't like the soup. This soup was the main attraction, but fortunately it was very well received. It was a total hit! The boys really liked it and Tyler even requested it for a meal later in the week when it was a leftover night. Jeffrey and I both loved it and decided it would be our potato soup of choice from now on.
The soup is creamy, thick, and loaded with flavor. If you like a thinner soup, just add additional chicken broth until you get the consistency you want. We enjoyed it thick, but found that when we reheated it for leftovers later in the week that we needed some chicken broth to thin it out.
Baked Potato Soup
Printer Friendly Recipe
Ingredients:
5-6 russet potatoes
4 tbsp. unsalted butter
1/2 cup flour, divided
2 cups milk
4 cups chicken stock
2 tsp. salt
black pepper, to taste
1 cup shredded cheddar cheese (preferably sharp)
1/2 cup sour cream
For topping:
Sour cream
Shredded cheddar cheese
Chopped green onions
Bacon pieces
Directions:
Preheat the oven to 400° F. Prick the potatoes. Place the potatoes on a baking sheet and bake for 1 hour to 1 1/2 hours or until potatoes are soft. Remove from the oven and let sit until cool enough to handle. Scoop the insides of the potatoes out and chop into small chunks. Discard the peels.
In a large stockpot or Dutch oven, melt the butter. Add ¼ cup of flour to the pot and whisk into the butter. Cook, whisking constantly, until golden brown, about 2 minutes. Whisk in the milk, chicken broth and the rest of the flour. Cook until thick about 6-8 minutes. Mix in the potato, salt, pepper, and cheddar cheese and stir until the cheese is melted. Remove from the heat, stir in the green onions and sour cream.
Serve immediately. Garnish with sour cream, cheddar cheese, green onions and bacon as desired. If the soup is too thick thin it with more chicken broth.
The soup was excellent as leftovers, but I found that it needed to be thinned with some chicken broth as I reheated it.