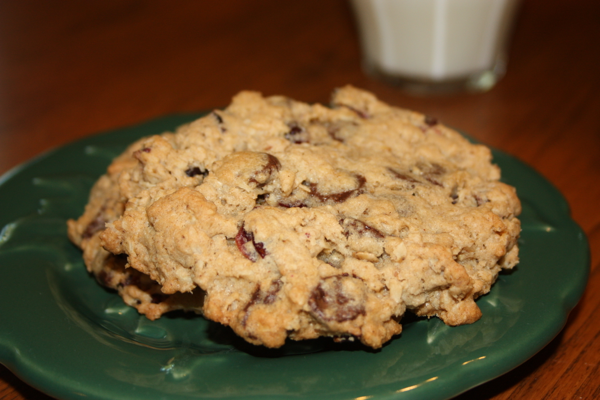 I want to begin my post with a big thank you to Jeffrey for guest posting last week and giving me a couple of days off. I had a fabulous birthday and was sufficiently spoiled.
One of the gifts I received was a new cookbook (Weeknights with Giada). Since I had some free time on my hands, I sat down and enjoyed reading it from cover to cover. Do you like to read cookbooks? I love to. I was very excited to mark several recipes to try in the near future. These cookies were one that I had marked to try. I love the fact that it only makes 12 cookies (large cookies but only 12.) I have been wanting a good chocolate chip cookie since I gave up sweets for Lent and I thought these would satisfy my craving. They did. While I am not sure that they are healthy, I always feel good about eating oats in my treats. Don't you?
These cookies are quite delicious and I love the combination of flavors. The hint of cinnamon is just enough to give the cookie a little something different. These will definitely be made quite often at my house. I am sure I can justify these as a breakfast for myself. I did hear the other day that chocolate for breakfast was a good idea especially when included with whole grains. I think this cookie fits the bill. Don't you?
Oatmeal, Cranberry, Chocolate Chip Cookies
Printer Friendly Recipe
Ingredients:
1 cup flour
3/4 teaspoon cinnamon
1/2 teaspoon baking powder
1/2 teaspoon baking soda
1/2 teaspoon salt
1 stick unsalted butter, at room temperature
1/2 cup brown sugar
1/2 cup sugar
1 egg
1/2 teaspoon vanilla
2 cups old-fashioned rolled oats
1 cup dried cranberries
1/2 cup chocolate chips (I use a heaping 1/2 cup.)
Directions:
Preheat the oven to 350 degrees. Line two baking sheets with either parchment paper or a silicone baking mat.
In a small bowl, whisk together flour, cinnamon, baking powder, baking soda, and salt.
In a stand mixer fitted with a paddle attachement, beat together the butter and sugars until light and fluffy. Add the egg and vanilla and beat until smooth. While the machine is running, gradually add the flour mixture. Add the oats, cranberries, and chocolate chips. Mix until just incorporated.
Using a large cookie scoop, scoop 12 slightly rounded mounds of dough. Place 6 on each pan spacing them evenly apart. Slightly flatten each mound of dough with the palm of your hand.
Bake for 13-15 minutes. The edges of the cookies should be slightly golden. Let the cookies cool on the baking sheets for 20 minutes.
Slightly adapted from Weeknights with Giada.