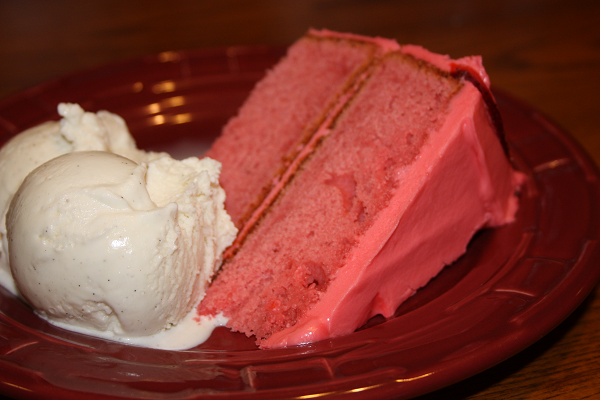 So, for my second post inside a week, I wanted to share Dinah's birthday cake.  As is our custom, I asked her what kind of cake she would like for her birthday.  I had suggested some that she had enjoyed before, but being the adventurous person she is, she asked for something new.  While I enjoy cooking, I'm always a bit nervous when I try to make something new because it is isn't something I do every day.
The cake Dinah found for me to make was one she located in one of her many sessions on Pinterest and was covered in pink roses (here is a video of someone making roses, but I'm betting it is much harder than it looks).  While she was sure I could have made a cake just like the picture, I had my doubts.  I'm not the most patient person and my once a year making a cake habit means that while I can make a decent looking cake, it is likely to fall short of professional standards.  Combine that with the fact that I am a perfectionist and I knew trying to recreate the cake as it was would have been a disaster.
I did like this cake and I think it tastes more like strawberries than most mixes you get from the store (while you want to store it in a fridge because of the frosting, let it come to room temperature before eating it).  I also did what I normally do when it comes to spreading things (peanut butter, jelly, icing, etc.) and went a bit skimpy.  The new rule of thumb given to me by Dinah is that the icing should be at least 1/4″ thick.  Duly noted and next years cake will be better!
When it came time to decorate the cake, I thought about trying to make a different color icing and that seemed like a good idea except I'm not that handy with a pastry bag.  Instead, I opted to cut up strawberries to spell Dinah's name and to make a border.  I think it turned out pretty nicely and if I were making the cake again, I'd probably put strawberries all over the cake because face it, those things are tasty. Happy Birthday Dinah!
Strawberry Birthday Cake
Ingredients:
Cake:
1 cup Butter
2  1/2 cups Sugar
2 Egg Yolks
5 Egg Whites
1 teaspoon Vanilla Extract
1 teaspoon Red Food Coloring
1  1/4 cups Pureed Strawberries
3 cups Cake Flour, sifted
1 teaspoon Baking Powder
1 teaspoon Baking Soda
pinch Salt
1 cup Buttermilk
Cream Cheese Frosting
1 – 8oz Cream Cheese, room temp
1/2 cup Butter, room temp
1/3 cup Heavy Whipping Cream
1 teaspoon Vanilla Extract
1 teaspoon Red Food Coloring
3 ¾ cups Powdered Sugar
Directions:
Strawberry Cake Directions:
Preheat oven to 350 degrees. Using a blender puree strawberries and set asside. In the bowl of a stand mixer, cream butter and sugar together for 3 or 4 minutes. Add the egg yolks one at a time and then add the vanilla, food color, and pureed strawberries and and beat for another 3 or 4 minutes.
Sift your dry ingredients together into a large bowl. Add ? of the dry ingredients to your stand mixer and beat slowly until combined. Add half the buttermilk, mixing until incorporated and then add another third of the dry ingredients. Add the final half cup of buttermilk mixing again until combined then add the final third of the dry ingredients and beat until the mixture until combined.
In a medium mixing bowl, beat the egg whites until they are stiff and add in thirds to your cake batter folding the whites into your batter. Add to greased and floured cake pans baking for 20-25 minutes for 9 inch round pans. (According to the original post, you can also make cupcakes and the baking time should be around 18 minutes.)
Cream Cheese Frosting:
In your clean stand mixer bowl, whip cream cheese and butter together until light and creamy. Add cream, vanilla, and red food coloring and mix. Slowly add the powdered sugar while mixing. If necessary, add more or less sugar until your icing is moderately stiff. Whip the icing until the mixture is smooth.