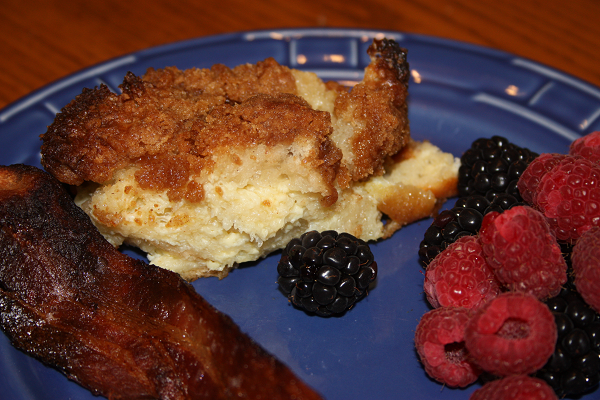 Dinah usually does most of the cooking at our house. Don't get me wrong, as long as I have time I'm the "someone" who is in the kitchen with Dinah. While I didn't want to deprive her of that joy, I did want to try to make her good meals all day long on her Birthday.
Dinah's big present for her Birthday was tickets to a concert (Lady Antebellum, Darius Rucker and Thompson Square) and since that was the weekend before her birthday, I wanted to make sure I had something to give her or do for her on the day of her birthday.  The day before her birthday I was taking one of our sons to school and he asked if I had any presents to give Dinah.  I told him that her present was to go to the concert (there was also Giggs) so there weren't really any presents for her to open.  His response?  "That is really sad pappa."
To make up for the lack of presents to open, I grabbed the boys and headed to the grocery to get the items we needed to make a few things that Dinah wanted to make.  This breakfast caserole came together easily and was quite tasty.  I think if I made it again, I'd substitute egg beaters for the eggs.  You could top this with syrup or butter, but nobody in our house used either.  We served it with a healthy helping of berries and a side of bacon.
Overnight Cinnamon French Toast
Ingredients:
½ a loaf of Sourdough bread (you can adjust this so that you have the right amount for your pan)
4 eggs (or egg beaters)
1 cup whole milk
¼ cup heavy cream
½ cup sugar
1 tsp vanilla
½ cup flour
½ cup brown sugar
1 tsp cinnamon
¼ tsp salt
8 Tbsp unsalted butter, cut into small peices, at room temperature
Directions:
Grease your baking dish by spraying your dish with a generous amount of cooking spray.  Tear bread into small pieces and place in a 2 quart baking dish.
In a large bowl, whisk eggs, milk, cream, vanilla, and sugar together.  Pour the mixture evenly on the bread.
In a different bowl, combine butter, flour, brown sugar, cinnamon and salt together.  You can combine them using either a fork, a pastry cutter or even using your hands.  Combine until the butter is the size of very small rocks. Evenly distribute your topping over the bread.
Cover your dish with plastic wrap and refrigerate the entire dish overnight.
To bake, preheat your oven to 350º F.  Remove plastic wrap and bake for 50 to 60 minutes until the topping is done and the mixture bubbles.
Adapted from the Curvy Carrot.