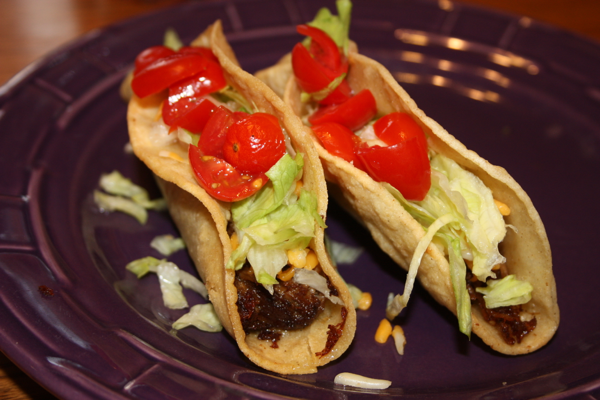 If you are a regular reader of my blog, you know we love Mexican food at my house and it will come as no surprise to you that over Spring Break we decided to try our hand at making tacos from scratch. They were amazing! They were a labor of love when you go all the way and fry your tortillas that have been filled with the shredded beef though I thought it was worth it.
It was a fun project and the tacos were some of the best I have ever eaten. I am only sad that we won't be putting these on a heavy rotation at our house since they are fried. I will definitely be pulling this out for special occasions and I think a taco night with friends is in our future as well. The beef is delicious and I will be trying these with some store bought taco shells, but I am sure it won't compare to creating our own.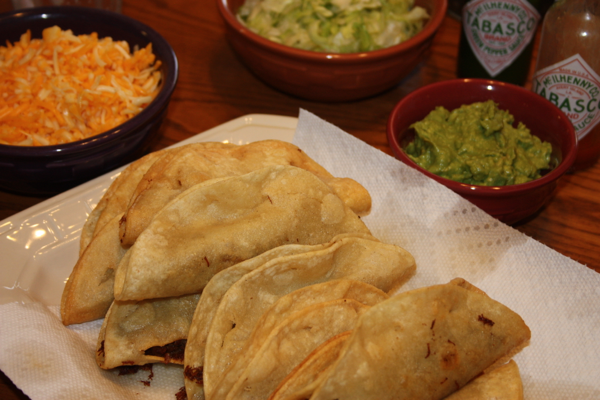 Shredded Beef Tacos
Printer Friendly Recipe
Ingredients:
2lbs. chuck roast, 2in. cubes and trim off fat
2 teaspoons salt
2 teaspoons pepper
1 tablespoon cumin
1 1/2 tablespoons chili powder
1 tablespoon garlic powder
1 tablespoon onion powder
4 bay leaves
1 onion, diced
16-20 6-inch corn tortillas
2-3 cups oil, for frying
shredded iceberg lettuce, diced tomatoes, shredded cheddar cheese for serving
Directions:
Combine meat, salt, pepper, cumin, chili powder, onion powder, garlic powder, bay leaves, diced onion and 1 cup of water in a crock pot. Cook on low 8 hours or high for 4-6 hours.
Once the meat is tender, remove the bay leaves and shred the meat using two forks. Set aside and let cool to warm or room temperature.
Heat oil in a large skillet or a deep fryer. If using a skillet do not fill the pan more than 1/2 full with oil. Heat to 350 degrees.
Just before your oil reaches temperature warm the corn tortillas 4-6 at a time in the microwave for about 30 seconds until they are pliable. Fill with shredded beef and secure the top with a toothpick. Once all of the tacos are assembled and the oil is hot you can begin frying (You could also have one person assembling tacos while the other fries–this is a good way to have your significant other get popped with oil so you avoid it. 🙂 ). It is very important to reach 350 degrees or the tortillas will not cook right.
Take 2 to 3 tacos at a time  (depending on the size of your pan) and place into 350 degree oil and cook for about 1 to 3 minutes a side, or until crispy.
Remove tacos and let stand for 1 minute. Remove toothpicks, open and add shredded lettuce, cheese and diced tomatoes or other toppings of your choice.