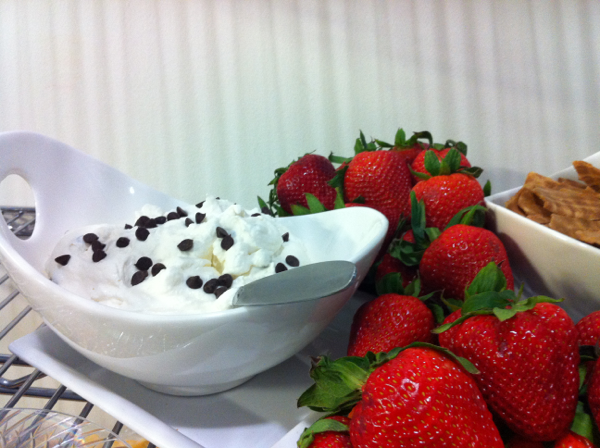 There is an Italian restaurant close to our house that we have visted to a couple of times. I enjoy some of their food, but it isn't my favorite restaurant. As much as their entrees don't rate tops in my book, their desserts do. One of my favorite deserts is their cannolis. Unfortunately, it isn't a restaurant where you can just order dessert. That being said, I haven't had cannolis in a while.
While surfing the Internet the other day, I came across a recipe for a cannoli dip. I thought it would be just the thing to try for an upcoming catering job. It was perfect! Super yummy and quite easy. I now can have the yummy cannoli flavor without going to the overpriced restaurant down the street and I don't have to labor over filling cannoli shells. It is definitely a win-win in my book.
If you have an event coming up and need a sweet treat this is the perfect dessert for you. It comes together in a matter of minutes and tastes delicious. I served the dip with strawberries and pieces of waffle cone.  If you've had been as hard as mine was today, I wouldn't judge you if you just "dipped" a spoon in it.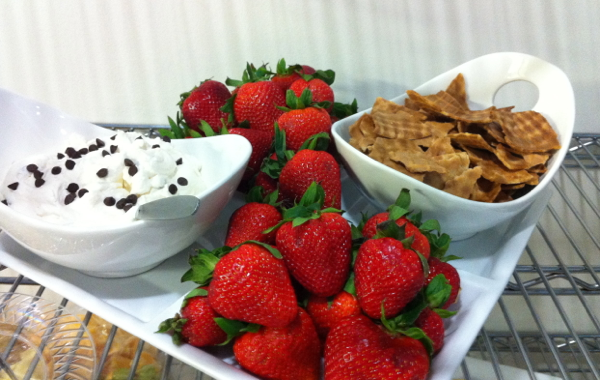 Cannoli Dip
Printer Friendly Recipe
Ingredients:
1/4 cup miniature chocolate chips
1 (16 ounce) package ricotta cheese
1/4 cup powdered sugar
1/4 – 1/2 teaspoon vanilla
4 ounces frozen whipped topping, thawed
Directions:
Combine chocolate chips, ricotta cheese, powdered sugar and vanilla together in a medium sized bowl. Whisk until the mixture is well combined. Gently fold in the thawed whipped topping. Top with additional chocolate chips for garnish. Serve with strawberries and broken waffle cone/bowl pieces.