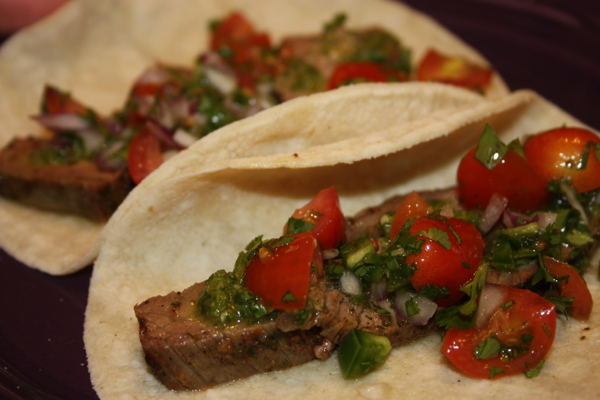 When I was browsing through my new cookbook the other day, I put lots of little slips of paper in the pages bookmarking recipes that I wanted to try. This recipe was one of the bookmarks I could hardly wait to try.
The tacos call for flank steak which is probably one of my all-time favorite cuts of meat so I was already sure to like them. You cut the flank steak along the grain into four strips and then marinate it for 30 minutes to 1 hour. (I was in a hurry for lunch so we only marinated ours for 30 minutes and it was still delicious.) I actually misread my recipe and ended up marinating it whole and then cutting it into the strips but it still worked fine although next time I will definitely cut it before hand so the marinade gets into the meat even more.
While the meat was marinating, I threw together a fresh pico for topping the tacos and it was the perfect addition to our tacos. I loved the flavor of the finished tacos and they reminded me of some tacos Jeffrey and I ate in San Francisco. We will definitely be incorporating this recipe into our menu on a regular basis. I even think it will be great on the grill this spring and summer.
Steak Tacos
Printer Friendly Recipe
For the Herb Paste Marinade:
1/2 cup packed fresh cilantro leaves
3 garlic cloves, coarsely chopped
3 scallions, cut into 1-inch pieces
1 jalapeño stemmed and seeded and cut into several pieces
1/2 teaspoon ground cumin
1/4 cup olive oil
1 tablespoon lime juice
For the Steak:
1 (1 1/2 – 1 3/4-pound) flank steak, cut lengthwise (with the grain) into 4 pieces
1 tablespoon kosher slat
1/2 teaspoon sugar
1/2 teaspoon black pepper
cooking spray
Tacos:
corn or flour tortillas, warmed
chopped tomatoes, fresh pico de gallo, or toppings of your choice
Directions:
For the Herb Paste:
Pulse cilantro, garlic, scallions, jalapeño, and cumin in food processor until finely chopped (10-12 pulses) scraping down the sides of the bowl as necessary. Add the oil and process until the mixture is smooth and resembles pesto. Transfer 2 tablespoons to a small bowl and whisk in 1 tablespoon lime juice. Set aside herb paste with lime juice for serving.
For the Steak:
Poke each piece of steak 10-12 times on each side with a dinner fork (Remember you should have already cut the steak into 4 equal pieces with the grain). Place the steak in a large baking dish; rub all sides of steak pieces evenly with salt and then coat with the herb paste. Cover dish and refrigerate 30 minutes to 1 hour.
Scrape herb paste off steak and sprinkle all sides of the meat evenly with sugar and black pepper. Heat a 12-inch nonstick skillet over medium-high heat with 1 Tbsp. of Oil. Once the pan gets hot place the steak in the skillet and cook until browned, about 3 minutes. Flip steak and sear until well browned (2-3 minutes). Continue until all cut sides of the steak are well browned and the meat registers 125-130 degrees. Transfer steak to a cutting board and let rest for 5 minutes.
Slice steak into thin slices across the grain. If desired toss the steak with the reserved herb paste or serve the paste along side as a topping. Spoon a few pieces of the steak into the center of the warm tortillas and serve with toppings of your choice.
*We served our herb paste on the side to accommodate our children.
Adapted from The Cook's Illustrated Cookbook.