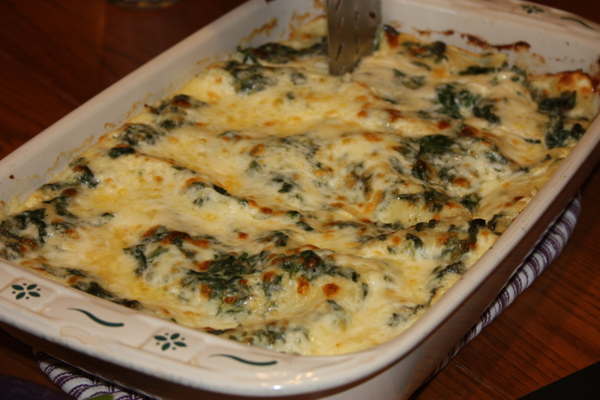 Recently I have been getting most of my recipes and inspiration from my computer instead of my numerous cookbooks. On a recent trip to Costco, I decided to pick up another cookbook to add to my already overflowing shelf. The cookbook is The Cook's Illustrated Cookbook (find it on amazon.com here
). It is from America's Test Kitchen. I love watching their TV show on PBS and I can honestly say I have never been disappointed with their recipes.
I already have a couple of their other cookbooks and really like them, but this book was packed full of new recipes for me to make. I eagerly chose two recipes and decided to make them for supper. Luckily I only had to grab one or two ingredients because most of the ingredients were either in my pantry or refrigerator. I chose Spinach Lasagna and Rosemary Focaccia (recipe to come). I will be honest and say unless you are a stay at home mom or dad and have most of the day to spend in the kitchen I would save these for a weekend. I, however, let the laundry pile grow a little bit more and spend my day in the kitchen. I actually love days like this so I was perfectly content. The rainy weather only helped make me more ready to sit down to a nice warm plate of this lasagna. I think the extra labor was well worth the outcome.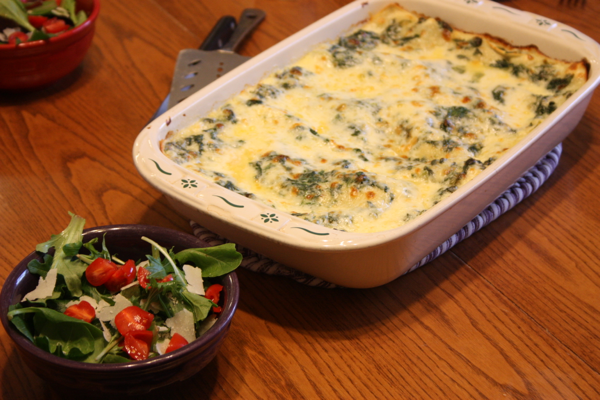 Spinach Lasagna
Printer Friendly
Ingredients:
For the Sauce:
1 tablespoon salt
1 pound baby spinach
5 tablespoons unsalted butter
1/4 cup minced onion
4 cloves garlic, minced
1/4 cup flour
3 1/2 cups whole milk (I used 3 1/4 cups skim milk and 1/4 cup half and half.)
2 bay leaves
3/4 teaspoon ground nutmeg
1/4 teaspoon pepper
1/2 cup Parmesan cheese, grated
For the Filling:
1 cup cottage cheese
1 large egg
1/4 teaspoon salt
1 cup Parmesan cheese, grated
2 cups shredded fontina cheese
12 no-boil lasagna noodles
Directions:
To prepare the spinach: Fill large bowl with ice water. Bring 4 quarts water to boil in large Dutch oven or stockpot over high heat; add salt and spinach, stirring until spinach is just wilted, about 5 seconds. Using skimmer or fine-mesh strainer, transfer spinach to ice water and let stand until completely cool, about 1 minute, then drain spinach and transfer to clean kitchen towel. Wrap towel tightly around spinach to form ball and wring until dry. Chop spinach medium and set aside.
To make the sauce (béchamel): Melt 5 tbsp butter in medium saucepan over medium heat; add minced onions and garlic and cook, stirring frequently, until onions have softened, about 4 minutes. Add flour and cook, stirring constantly, for about 1 1/2 minutes. Do not brown. Gradually whisk in milk. Bring mixture to boil over medium-high heat, whisk in bay leaves, nutmeg, 1/2 teaspoon salt, and pepper. Reduce heat to low and simmer 10 minutes, whisking occasionally. Discard bay leaves and whisk in Parmesan. Measure out and reserve 1/2 cup sauce in a small bowl; pressing plash wrap directly against the surface. Add the chopped spinach to the remaining sauce and stir until combined. Transfer spinach sauce to bowl, press plastic wrap directly against surface, and set aside.
To prepare the cheeses and pasta: Blend cottage cheese, egg, and salt in food processor or blender until very smooth, about 30 seconds. Adjust oven rack to middle position and heat oven to 425 degrees. Place noodles in 13- by 9-inch broiler-safe baking dish and cover with hot tap water; let soak 5 minutes, stirring the water and noodles occasionally to prevent sticking. Remove noodles from water and place in single layer on kitchen towel. Wipe baking dish dry and spray with non-stick cooking spray.
To assemble: Use rubber spatula to distribute the reserved 1/2 cup béchamel in bottom of baking dish; position 3 noodles on top of sauce. Spread 1 cup spinach mixture evenly over noodles, sprinkle evenly with Parmesan, and top with 3 more noodles. Spread 1 cup spinach mixture evenly over noodles, sprinkle evenly with 1 cup fontina, and top with 3 more noodles. Spread 1 cup spinach mixture evenly over noodles, followed by cottage cheese mixture. Finish with 3 noodles, remaining cup spinach mixture, and remaining cup of fontina. Lightly spray large foil sheet with cooking spray and cover the lasagna. Bake until bubbling, about 20 minutes, then remove the foil. Remove the pan and adjust oven rack to uppermost position (about 6 inches from heating element) and heat broiler. Broil lasagna until cheese is spotty brown, 4 to 6 minutes. Cool 10 minutes, then cut into pieces and serve.
*I actually put my lasagna together and the refrigerated it for a couple hours before baking. You will need to increase your cooking time a little if you chose to refrigerate your lasagna before baking. Check after 20 minutes to see if it is bubbly if not continue cooking until it starts bubbling on the edges.
Adapted from The Cook's Illustrated Cookbook