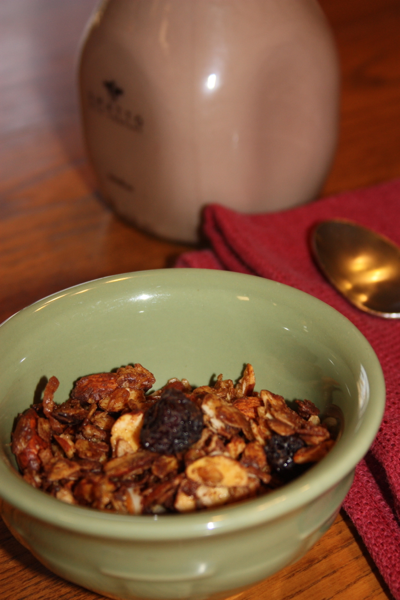 I know I have posted numerous recipes for granola but I couldn't resist sharing this new variation with you. I originally wanted to share a Valentine inspired cookie, but after visiting two stores searching for heart shaped Dove dark chocolates I threw in the towel. If I was having such a hard time finding the ingredients, I knew it would not be easy for you to find them either. So I decided to share this granola instead.
I know it is not your typical Valentine treat, but I think it was well received by my Valentine. I made our favorite Coconut Almond Granola and then as it was cooling added some coarsely chopped bittersweet chocolate to half of the batch. Jeffrey didn't really care for large chunks of chocolate in the granola so this allowed the chocolate to melt and add chocolate flavor without having big pieces. I decided to throw in some dried cherries and found it was quite delicious. I am looking forward to many bowls of this granola served overtop of my favorite plain greek yogurt. Now if I can only convince Jeffrey that this doesn't count for dessert we could even enjoy it all throughout Lent.
Chocolate Cherry Almond Granola
Printer Friendly Recipe
Ingredients:
4 cups old fashioned oats
1 cup sliced almonds
1 cup whole almonds
1/2 cup sweetened shredded coconut
1 teaspoon ground cinnamon
1/2 teaspoon salt
3 tablespoons butter
1/4 cup vegetable oil
1/4 cup honey
1/2 cup brown sugar
1 teaspoon vanilla extract
4 ounces bittersweet chocolate, coarsely chopped
1 cup dried cherries
Directions
Preheat to 325° F.
In a large bowl, combine oats, whole almonds, sliced almonds, sweetened coconut cinnamon and salt. Set aside.
In a medium saucepan, combine butter, oil, honey and brown sugar together and cook over medium heat until the sugar is dissolved and the mixture begins to boil. Carefully whisk together so it's well incorporated. Add the vanilla extract. Pour the warm mixture over the oat mixture and toss together with a wooden spoon, ensuring that all of the oat mixture is moistened by the liquids.
Spread mixture onto a large stoneware bar pan (my preferred method) or large rimmed cookie sheet (lined with either parchment paper or a silpat liner to keep granola from sticking) and bake for about 25 to 30 minutes, stir twice during baking to ensure even browning. Remove from the oven, sprinkle coarsely chopped chocolate on top of the granola. As the chocolate begins to melt stir the mixture so that the chocolate is coating the granola. After the chocolate has been stirred into the granola let the granola cool. Add the dried cherries and store in an airtight container for up to two weeks.
Serve with yogurt or milk. It would also make an excellent topping for ice cream.