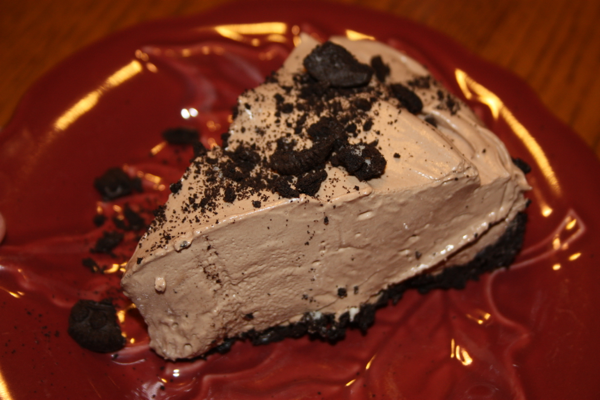 I don't know how I missed World Nutella Day, but apparently I did. Did you know there was such a thing? There is and February 5th was it. Although I did not get to celebrate by eating Nutella on that day, I have to admit that I finished the last piece of my Nutella Cheesecake Pie on Saturday. I guess I was celebrating early.
Oh well…regardless of if you knew about or even cared to know about World Nutella Day, here is an excellent and easy recipe if you enjoy eating Nutella.
I found a recipe via Pinterest for a no-bake Nutella cheesecake. The recipe I found was served in small ramekins as single serving desserts. It was super cute, but I wanted something a little bit easier so I decided to adapt the recipe to fit into a pie plate. I was very happy with the results (especially for the amount of effort I put into this dessert). I will definitely be making this pie again.
Nutella Cheesecake Pie
Printer Friendly Recipe
Ingredients:
12 Oreo cookies crushed (I used 1 Take and Go Cup of mini Oreos and found it to be the perfect amount.)
3 tablespoons unsalted butter, melted
1 8-ounce package cream cheese, softened (I use 1/3 fat.)
2/3 cup Nutella
1 8-ounce tub frozen whipped topping, thawed
crushed Oreos or whipped cream for garnish (if desired)
Directions:
Stir the crushed Oreos and melted butter together in a medium size bowl until well combined. Press the Oreo mixture in a pie plate making sure to cover the bottom and the sides with the mixture. Set aside.
Combine the softened cream cheese and Nutella together in a large bowl and mix with a hand mixer until well combined scraping down the sides of the bowl as necessary. Once the Nutella and cream cheese are well combined, fold in the whipped topping using a rubber spatula. Continue folding until you don't see any streaks. Once the mixture is well combined, pour into the prepared crust. Refrigerate for two hours. When ready to serve, garnish with crushed Oreos or whipped cream or toppings of your choice.