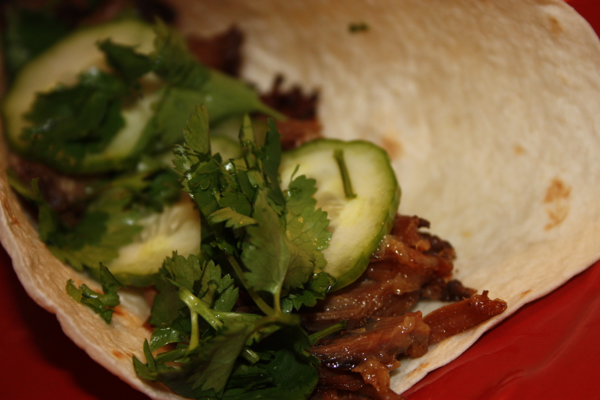 I love finding new recipes that utilize my crock pot. There are just times when it is nice to come home from the busyness of life and have a delicious meal waiting for you.
This beef recipe was one of those recipes that is a nice change of pace. I really enjoyed the sweet and spicy flavor of the meat. The cucumber slaw was an excellent addition to add just the right amount of crunch. After eating the meal as tacos though, Jeffrey and I both thought this would be excellent served on top of rice. Once we started thinking about having it more of a fork and knife type dinner, I then thought of adding some matchstick carrots to the slaw in the future. I thought it would add another color and some extra veggies into the mix. Really, the toppings are probably endless. I did enjoy them as tacos and it was a nice meal that we rounded out with a salad, but I think next time I will try it over the rice to have a more elegant feel to the meal.
I did add a couple of carrots to my leftover taco today and found it was a nice addition so I am sure I will be tweaking this recipe until it fits just how I like it. I did want to go ahead and share it with you because the meat was a nice change of pace and quite delicious.
Crock Pot Korean Beef
Printer Friendly Recipe
3 pound chuck roast
3/4 cup soy sauce
2/3 cup packed brown sugar
5 cloves garlic
1 1/2 inch piece of fresh ginger, peeled
3 tablespoons rice vinegar
1 tablespoons dark sesame oil
1 teaspoon crushed red pepper flakes
Cucumber Slaw
1/2 hot house cucumber (the long skinny ones)
2 teaspoons rice vinegar
1/2 teaspoon sugar
pinch of salt
crushed red pepper flakes to taste
To serve:
flour tortillas
fresh cilantro
Siracha
Directions:
In the bowl of a small food processor, pulse the garlic and ginger until finely chopped.
Place the chuck roast in the bottom of a crock pot. In a small bowl, whisk together all the ingredients for the cooking liquid. Pour over the roast.
Set the crock pot to low and cook 8-10 hours. When ready to serve, remove the roast, and shred into bite-sized pieces.
Skim the fat off the top of the cooking liquid. Pour some of the liquid over the shredded meat and serve.
For the cucumber slaw, slice the cucumber as thinly as possible, using a mandoline if you have one. In a medium bowl, whisk together the vinegar, sugar, salt, and red pepper flakes. Toss the cucumbers in the mixture and refrigerate overnight.
To serve, warm the tortillas and fill with the shredded meat, and top with cucumbers, cilantro, and Siracha to taste.