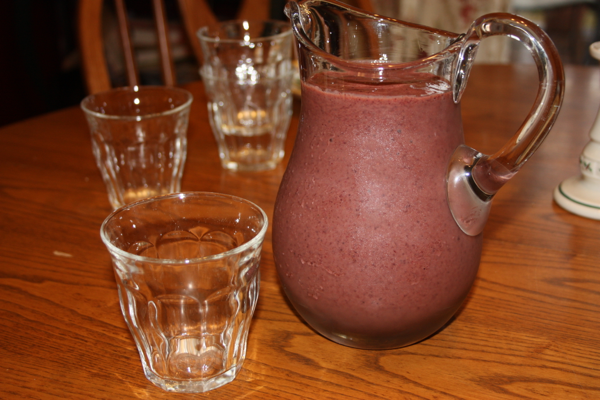 If you are anything like me, you have probably overindulged this holiday season and are trying to think of healthier options for the new year. You may be, like I am,  still sneaking the leftover goodies which are lingering on the counters. This smoothie is a nice option for a yummy breakfast to add some much needed fruits and veggies.
This smoothie is very similar to my green monster smoothie, but I added plenty of blueberries, raspberries, and strawberries to the mix. I highly recommend adding plenty of blueberries unless you want a smoothie that is more on the brown side. I have found that the trick with adding spinach to your smoothies is to either go with yellow fruits and have the green shine through or make sure to include lots of blueberries to have a purple smoothie. If you only add red fruit to the spinach you have a smoothie that is a very unappetizing shade of brown.
Mixed Berry Smoothie
Printer Friendly Recipe
Ingredients:
1 1/2 cups orange juice (or apple juice)
1 banana
2 cups baby spinach
2 1/2 – 3 cups frozen mixed berries (I use a combination of blueberries, raspberries, and strawberries.)
*If using fresh fruit just add some ice cubes before blending.
Directions:
Put all ingredients in a blender in the order listed. Blend starting on low and gradually increasing the speed to high. Once blending on high blend for about 1 minute or until all of the spinach is blended well. You may need to scrap down the sides and blend again. (I use a vita-mix and use the tool to push everything down into the blade to insure proper blending.)