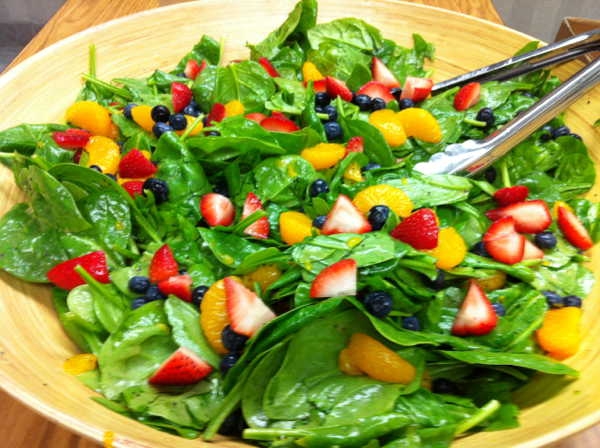 Last week was one busy week at our house. I'm not sure what I was thinking when I said I would cater a week of meals (7 meals total) during the first week of school. Between welcoming kindergarten parents, soccer games and everything else, I'm sure my family thought I had lost my mind. Somehow I managed to get everything done and survive. (I will be honest and say that on Friday and Saturday, I was moving a little bit slower than normal but I survived.) Thank goodness for Sunday as I was ready for a day of rest.
In my commitment to keep my word (about blogging regularly), I knew I had to take some pictures while I was catering so that I would have material for the blog this week. Frankly, I was a bit surprised that this salad had not yet been on the blog. This salad is always a hit and is so easy to throw together. I really enjoy salads that have fruit and this salad is just the right combination of sweet and sour when it has been dressed. I also enjoy making my own salad dressing as it is nice to know all the ingredients in the dressing.  I hope you have time to try this recipe this week.
Also, on a side note, this is my 300th post!  I'm pretty excited about that accomplishment!
Spinach Salad with Poppy Seed Dressing
Ingredients:
For the Dressing:
1/3 cup honey
3/4 teaspoon salt
1/3 cup vinegar (I like white balsamic or apple cider vinegar.)
1 tablespoon dijon mustard (yellow mustard can be substituted)
1/3 cup canola oil
1 teaspoon poppy seeds
For the Salad:
baby spinach
strawberries, quartered
fresh blueberries
1 can mandarin oranges, drained
Directions:
Combine all ingredients for the dressing in a pint sized jar. Seal the jar and shake vigorously until everything is combined. Store in the refrigerator. Shake the dressing again before using .
For the salad, place the spinach in a bowl. Pour some of the dressing over the spinach and toss to coat. Add the fruit and another drizzle of dressing. Toss gently making sure some of the fruit stays on top of the salad. Serve immediately.