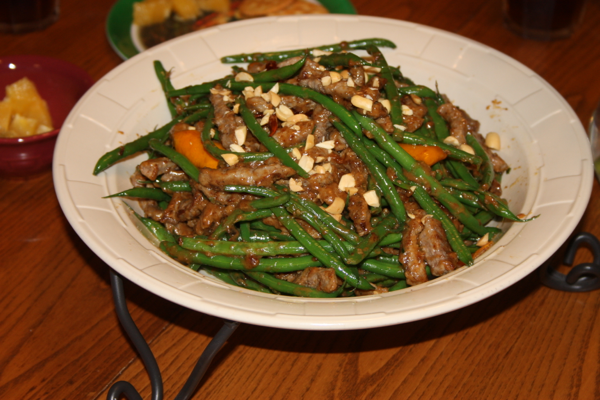 Guest Post:  Jeffrey
I remember when Dinah and I went to premarital counseling. One of the things that we discussed was the division of labor. I think the counselor was trying to make sure that we didn't have different or possibly conflicting ideas about what the husband/wife should do. I think that we were in agreement for most everything and honestly most tasks at home are shared. There are of course a few things that one of us seem to have adopted merely because we are better at the tasks. I deal with bleeding children. Dinah pulls teeth.
I've also taken charge of any tasks in the kitchen that involve the chance of popping grease. When you make this recipe the frying of the beef can be a bit tricky. You will want the oil to be high enough in temperature to fry the beef, but not so hot that the oil pops on you. I recommend using long handled tools when frying this up as that can help and wearing an apron as grease seems to stain shirts. When you make this dish there is quite a bit of chopping and mixing, trying to do everything while you cook can be daunting. Dinah was my sous chef and chopped and mixed everything so I just had to add ingredients to the wok.
With that rambling prologue out of the way, this dish is a super delicious meal and my favorite part is the dried chili peppers. At the same time, if you steer clear of the peppers, the stir-fry is not too spicy. The peanut sauce is great and I like to make sure I don't overcook the green beans so that they provide a good crunch. The last time we made this dish we shared it with friends and they enjoyed it as much as we did so I'm confident that you might find it worth the time to figure out who fries things in your family and make a batch of this stir-fry. It will be worth the effort and you will enjoy the results. One final note, this is delicious even as leftovers.
Beef and Green Bean Stir-fry with Peanut Sauce
Printer Friendly Recipe
Ingredients:
2 large egg whites
1 teaspoon sesame oil
2 tablespoons cornstarch, divided
salt
pepper
1 pound boneless beef top round
8 fresh chives, minced
1/2 cup peanut oil
1-inch piece fresh ginger, peeled and minced
2 garlic cloves, minced
2 green onions, chopped
2-3 dried red chile peppers
1 pound haricot verts (green beans)
1/2 cup chicken broth
2 tablespoons soy sauce
1 tablespoon rice vinegar
1 tablespoon sugar
3 tablespoons creamy peanut butter
orange peel from one orange in large strips
1/4 cup chopped roasted peanuts
Directions:
In a mixing bowl, whisk together the egg whites, sesame oil, and 1 tablespoon of the cornstarch until foamy; season with salt and pepper. Add the beef and chives tossing to coat in the egg white mixture. Refrigerate for 30 minutes.
Pour oil in a large skillet or wok and heat over high heat. When the oil is hot, add 1/2 of the beef mixture. Stir-fry for about 2 minutes or until crisp and cooked. Remove the cooked meat and place on a paper towel to drain. Repeat with the remaining meat. (You want to cook the meat in batches so that it cooks up crisp if all the meat is added at the same time it will only stew and not become crisp.)
Stir-fry the ginger, garlic, green onions, and chiles in the remaining oil until it is fragrant. Add the green beans and season with salt and pepper. Stir-fry the beans for about 2 minutes until they are crisp-tender. Remove from the pan once they are the desired degree of doneness. Mix the chicken broth with the remaining tablespoon of cornstarch to make a slurry and add it to the pan. Add the soy sauce, vinegar, sugar, peanut butter, and orange peel. Simmer until the sauce thickens (about 5 minutes). Return the beef and green beans to the pan, tossing to coat in the sauce and leaving for 2-3 minutes to let the beans and beef warm up. Garnish with chopped peanuts and serve overtop rice.
*I find it easier to prepare this dish if I have several small bowls ready with my ingredients. I usually have 3 small bowls, one with the ginger, garlic, green onions, and chiles, one with the cornstarch and chicken broth and the final one with the soy sauce, vinegar, sugar, peanut butter, and orange peel. I have found it easier to have everything ready once the stir-frying begins.