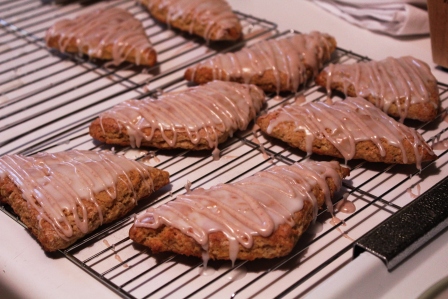 I am excited today to have one of my friends share a yummy recipe with you. My friend Karla made these scones and brought one to me at church. After one bite, I told her she had to share the recipe with you. She graciously accepted. I was a little impatient for the post and recipe so she graciously gave me the recipe early and I made a double batch of these to take with us over Thanksgiving. They were a huge hit with everyone. I am so glad to have Karla share them and I hope you enjoy her post and recipe. Thanks for sharing Karla. You are awesome and I love sharing my kitchen, recipes, and blog with you.
Guest Post: Karla
One of my favorite flavors of fall is pumpkin! To be honest, I bake with pumpkin all year long, but it fits most during fall. One of my favorite pumpkin indulgences are pumpkin scones from Starbucks. I was so excited to find a recipe for pumpkin scones that mirrors the scones from Starbucks. I was not disappointed with the result!
I know Dinah loves pumpkin as much as I do, so I knew I had to share them with her. She liked them so much she asked me to share them with you! (Dinah – thank you for this great honor!)
The scones are moist and the spiced glaze gives a perfect finishing touch. They are a little time consuming, but I think they make a wonderful treat and are worth the extra time! I hope you enjoy them as much as I have.
Pumpkin Scones
Yields 6 large or 12 smaller scones
Printer Friendly Recipe
Scones Ingredients:
2 cups all-purpose flour
7 tablespoons sugar
1 tablespoon baking powder
½ teaspoon salt
½ teaspoon ground cinnamon
½ teaspoon ground nutmeg
¼ teaspoon ground cloves
¼ teaspoon ground ginger
6 tablespoons cold butter
½ cup pumpkin puree (or canned pumpkin)
3 tablespoons half-and-half
1 large egg
Sugar Glaze Ingredients:
1 cup & 1 tablespoon powdered sugar
2 tablespoons whole milk
Spiced Glaze Ingredients:
1 cup & 3 tablespoons powdered sugar
2 tablespoons whole milk
¼ teaspoon ground cinnamon
1/8 teaspoon ground nutmeg
1 pinch ginger
1 pinch ground cloves
Scone Directions:
1. Preheat oven to 425 degrees Fahrenheit
2. Lightly grease a cookie sheet or line with parchment paper.
3. Combine flour, sugar, baking powder, salt and spices in a large mixing bowl.
4. With a fork, pastry knife, or food processor, cut butter into the dry ingredients until mixture is crumbly and no chunks of butter remain. Set aside.
5. In a separate mixing bowl, whisk pumpkin, half-and-half, and egg.
6. Fold wet ingredients into dry ingredients. Form the dough into a ball.
7. Pat out dough onto a lightly floured surface and form it into a 1-inch thick rectangle (about 9 inches long and 3 inches wide).
8. Use a large knife (or pizza cutter) to slice the dough into three equal portions. Cut diagonally to produce 6 triangular slices of dough (I cut mine one more time to make 12 smaller scones).
9. Place on prepared baking sheet.
10. Bake for 14-16 minutes until scones turn light brown.
11. Place on wire rack to cool.
Sugar Glaze Directions:
1. Mix the powdered sugar and whole milk together until smooth.
2. Brush glaze over the top of each cooled scone.
Spiced Glaze Directions:
1. As sugar glaze firms, combine the spiced icing ingredients.
2. Use whisk or fork to drizzle over each scone and allow to dry before serving.