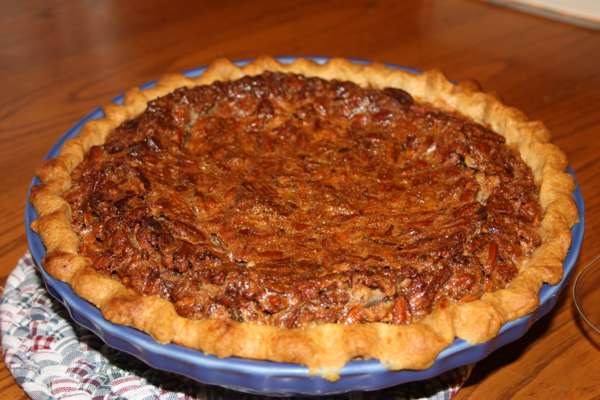 Today I'm sharing one of of my all-time favorite pie recipes. It is a copy-cat of a certain pie made in Kentucky during the month of May to coincide with a certain horse race (Evidently the name I usually use for this pie is a registered trademark, and I don't want any nasty letters–so we will just name it after the ingredients).
The first time I had this pie was when the mother of my best friend growing up made it for me. Since we spent many holidays together while we were growing up, I became accustomed to having this pie be a regular part of holiday celebrations. From the first time I tasted this pie, I knew it was a keeper. Perhaps it is a bit of an exaggeration (Southerners have practically made exaggeration into an art form), but this pie tastes like a little slice of heaven.
After Jeffrey and I started dating, the pie quickly grew into a favorite of Jeffrey's as well as his sister, Julie. It was my duty to make pecan pies for the family Thanksgiving celebration this year.  Julie and Jeffrey quickly requested that this pie be on my to-do list. I am looking forward to digging into a slice of this pie as the conclusion to our Thanksgiving feasting.  Just as a note, you can omit the bourbon and the pie is still quite good though it lacks a bit of the richness the bourbon adds.
Chocolate Bourbon Pecan Pie
Printer Friendly Recipe
Ingredients:
¾ cup sugar
¼ cup brown sugar
4 eggs – slightly beaten
1 cup chopped pecans
2 tablespoons bourbon
1 teaspoon vanilla
1 stick butter, melted
1 cup chocolate chips
1 tablespoon flour
1 cup white corn syrup
1 unbaked pie shell
Directions:
Line pie plate with unbaked pie crust. Spread chocolate chips in the bottom of the pie shell. Set aside.
Melt butter in a large bowl, add sugar and corn syrup. Add eggs, pecans, bourbon, vanilla, and flour stirring to combine. Carefully pour the mixture over the chocolate chips. Bake at 350 degrees for 45 minutes to 1 hour.