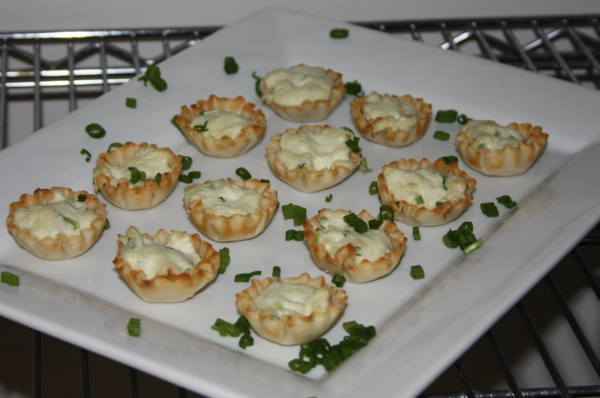 Appetizers have not always been one of the items that I spend a lot of time thinking about, but a recent catering gig called for me to serve appetizers only. Since I knew I would be catering that event, I have been working diligently coming up with some new ideas. In all of my research and preparing appetizers, I am actually starting to appreciate them more. They can be quite the little morsel of yumminess and if you have a several appetizers they make for an excellent small bite meal. Today Jeffrey and I shared leftover appetizers for lunch. Friends should be warned–I see more small bite parties in the future!
I actually came across the idea for crab rangoon bites and thought it would be fun to make because Jeffrey and I both love to order them when we go to Chinese restaurants. When I served this at a recent gathering, this recipe was very well received. I'm always interested to see what people will enjoy when I cater events.  I was pleasantly surprised by the way these bite-sized crab treats were flying off the trays.
In addition to being a crowd pleaser, these savory treats are super easy to put together and they only bake for about 7 minutes so it is perfect for any occasion where you need a quick appetizer. Serve them with some plum dipping sauce (Jeffrey likes his with soy sauce) from the Asian food isle and you are ready to go! (Next I will be trying to figure out how to create my own dipping sauce for these little treasures.)
Crab Rangoon Bites
Printer Friendly Recipe
Ingredients:
6-8 ounces cream cheese, softened
1/3 cup mayonnaise
1 clove garlic, minced
1/4 cup sliced green onions (about 2)
6 ounces lump crab meat, drained
2 packages Mini Fillo Shells (30 shells)
plum or sweet and sour sauce for dipping
Directions:
Mix all ingredients together in a bowl using a hand or stand mixer scrapping down the sides as necessary until the mixture is creamy. Fill each Mini Fillo shell with 1 teaspoon of filling. Bake in 400 degree oven for 5-7 minutes or a 350 degree oven for 10-12 minutes. (I just adapt the cooking time to work with the other appetizers I am serving.)Serve with plum, sweet and sour, or soy sauce. Garnish with chopped green onions or chives.