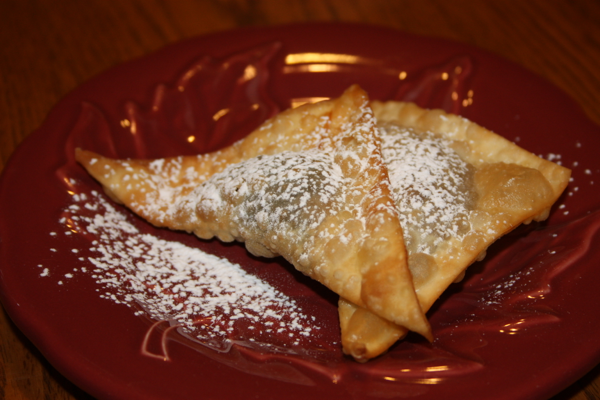 Saturday night we had some friends over for dinner. The funny thing was, that everyone was less interested in the meal than they were in the desert that was to follow the meal. I say that it was funny because, while it is true that we generally enjoy desert, the meal is generally not anything to ignore. I described the desert to our friends before and after a bit of schedule juggling, we found a time for us to get together. Both Jeffrey and I were quite excited about the get-together. We had made this treat quite awhile ago, but since we deep fry them they are definitely not on our regular rotation. We thought a get-together with friends was just the excuse we needed to indulge in this special treat.
As you can see from the pictures Jeffrey and Karla did all of the work. Don't you love it when you get invited to someone's house for dinner and then they put you to work? I knew Karla would enjoy helping and Jeffrey is the fryer in our family. If there is a possibility of hot popping  grease, he is the go to man at our house. I suppose he thinks it is a way to be manly like when he works the grill.  Honestly, after we all took the first bite no one was complaining and we all enjoyed the delicious treat. In case you think I was being lazy, I was  busy working on whipping up some cappuccinos with our new machine for the occasion so I wasn't completely out of the picture.
These are a great treat. I have included a way to make them in advance, but for an intimate gathering of friends I enjoy having everyone participate in the fun.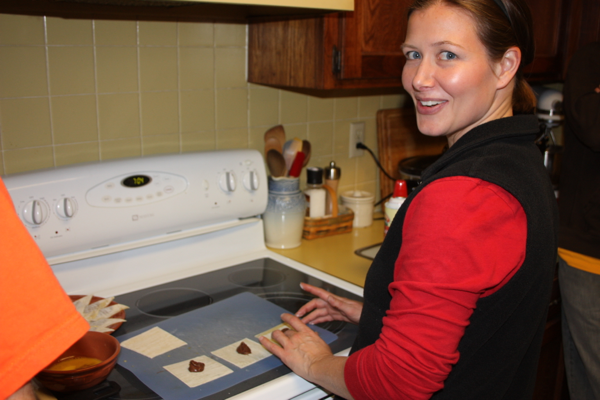 Nutella Ravioli
Printer Friendly Recipe
Ingredients:
wonton wrappers
1 egg, beaten
jar of chocolate-hazelnut spread (I use Nutella)
Vegetable oil, for frying
Powdered sugar, for dusting
Directions:
Place 1 wonton wrapper on the work surface. Brush the edges of the wrapper lightly with egg. Spoon 1 teaspoon of chocolate-hazelnut spread into the center of the wrapper. Fold the wrapper diagonally in half over the filling and press the edges of the wrapper to seal. Place the ravioli on a plate or baking sheet until ready to fry. Repeat with the remaining wonton wrappers, egg, and chocolate-hazelnut spread. (You want to make sure that there isn't air trapped in your wonton wrappers as this can lead to unfortunate puffing and could lead to a rupture of your "ravioli").
Add enough oil to a heavy large frying pan to reach a depth of 2 inches. Heat the oil over medium heat to 350 degrees F.
Working in batches, carefully add the ravioli to the hot oil and cook until they are golden brown, about 45 seconds per side. Using a slotted spoon, transfer the ravioli to a plate lined with paper towels to drain. If you want to keep them warm while you finish frying the batch place to drained ravioli on a baking sheet and keep them warm in a 200 degree oven. (The fried ravioli can be prepared 1 day ahead. Cool them completely, then cover and refrigerate. Before serving, place them on a baking sheet and rewarm in a preheated 375 degrees F oven just until they are heated through, about 7 minutes.)
Arrange 2 fried ravioli on each plate. Dust the ravioli with powdered sugar. Garnish with whipped cream, if desired.
Adapted from Giada De Laurentiis