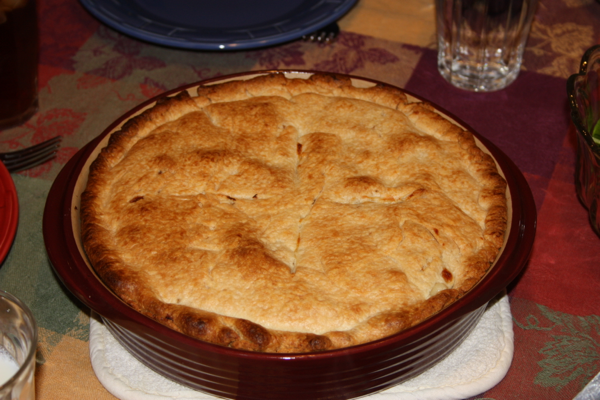 One of Jeffrey's favorite things to eat is Chicken Pot Pie. He has educated himself out of buying to store bought variety after realizing how many calories and fat they contained (not to mention the sodium). I am not a huge fan of pot pies, but I thought it sounded like a good idea for a dinner this week and I knew Jeffrey would be thrilled. Since I decided to make my own, I was at liberty to add only what I liked into my pot pie. (I am not a fan of potatoes in pot pies and I think that is party why I have never been a huge fan of pot pies. I love potatoes–just not in my pot pies.)
When I made this pot pie, I took several shortcuts just because I had been rather busy and wanted an easy dinner. The outcome was quite delicious (in my humble opinion) and I even found the pot pie quite comforting. I may be a convert yet. Jeffrey was super happy and thinks that we should add this to our regular rotation. I think he may just get his wish.
Like I said, I took several shortcuts…  First, I used pie crusts from Trader Joe's (which I love and will definitely be keeping a few in my freezer at all times for my future pies). Second, I also used canned chicken since I had that on hand, but you could easily use your own cooked chicken or even grab a rotisserie chicken. In my pictures, you will see that I used a large round stoneware pan; however, the recipe I am giving you should fit into a regular pie plate. (I added some extra chicken and veggies to the filling to stretch the pie to feed two extra adults. We had plenty and even had one serving leftover that Jeffrey took for lunch.) We rounded out the meal with some cooked apples and a spinach salad. Delicious!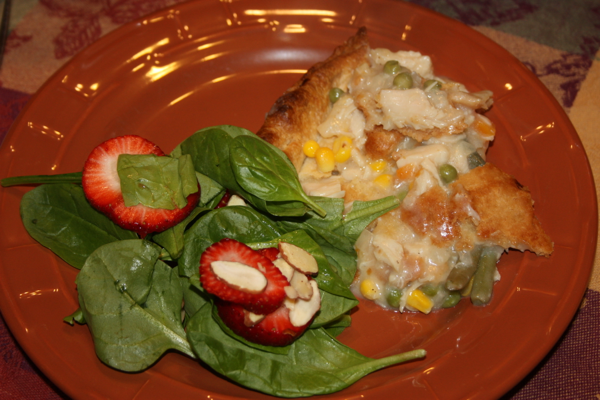 Chicken Pot Pie
Printer Friendly Recipe
Ingredients:
2 unbaked pie crusts (one for the bottom and one for the top)
1/3 cup butter
1/3 cup chopped onion
1/3 cup all-purpose flour
1/2 teaspoon salt
1/4 teaspoon pepper
1 3/4 cups chicken broth
1/2 cup milk
2 1/2 cups shredded cooked chicken
2 1/2 cups frozen mixed vegetables, thawed
Directions:
Preheat oven to 425°F. Place one pie crust in the bottom of a 9-inch pie pan. In a saucepan, melt butter over medium heat. Add onion and cook until tender (2-5 minutes). Stir in flour, salt and pepper until well blended. Gradually stir in broth and milk, cooking and stirring until bubbly and thickened. Once the filling has thickened add in chicken and mixed vegetables. Remove from heat. Spoon chicken mixture into crust-lined pan. Top with second crust sealing the edge. Cut slits in several places in top crust to allow the steam to escape. Bake 30 to 40 minutes or until crust is golden brown. During last 15 to 20 minutes of baking, cover crust edge with strips of foil to prevent excessive browning. Let stand 5 minutes before serving.