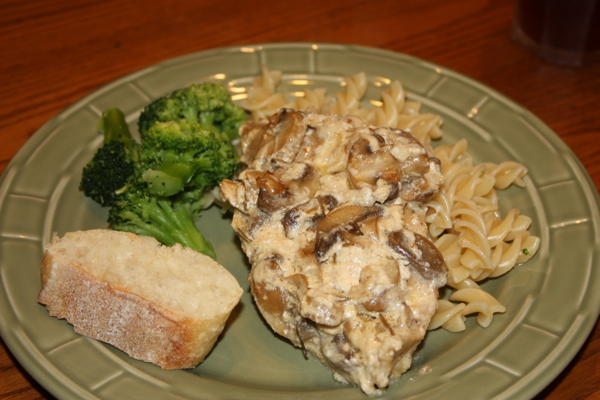 The weather in Kansas City has yet again taken a drastic change. I have had to trade my short sleeves in for layers and have still found that my nose and toes are getting cold. It is weather like this that calls for a warm hearty meal. We have had our fair share of chili and quick meals lately so today I told Jeffrey that I needed a real meal.
I decided earlier in the day that rosemary chicken would be an excellent choice. It does take a little bit of prep time and then bakes for an hour and 15 minutes, but it still was an excellent and much needed comfort meal for the evening. The advantage of the longer baking time is that you can clean up all of your mess from the chicken while it cooks so that clean up after the meal is minimal. We served ours along side of some steamed broccoli and over top of noodles. It was just what I needed to warm me up from the chill outside. You will also love the way this makes your kitchen smell as it bakes. The kids were complimenting the smell and gobbled up the chicken even though they weren't wild about the mushrooms.
Rosemary Chicken
Printer Friendly Recipe
 Ingredients:
6-8 boneless, skinless chicken breasts
salt and pepper to taste
½ cup flour
2 tablespoons of olive oil, butter or a combination of the two
1 pound fresh mushrooms, sliced
1 cup sour cream
½ cup white wine
1 teaspoon rosemary
Directions:
Pat chicken dry. Season both sides of the chicken with salt and pepper. Place flour in a shallow bowl and bread the chicken. In a large skillet, melt the butter or bring the oil up to temperature on high heat. Add the floured chicken breasts to your skillet and brown lightly on both sides. (It may take a few batches of chicken depending on the size of your skillet.) Arrange chicken in a single layer in a greased 9X13 baking dish.
Add the mushrooms to the skillet where you cooked the chicken. (You may need to add additional oil or butter.) Cook the mushrooms for 3 or 4 minutes until they begin to brown. Add the sour cream and white wine to the mushrooms. Stir to blend over medium heat. Add the rosemary to the sauce. Poor the sauce over the chicken. Cover and bake for at least 1 hour and 15 minutes (or longer) at 350 degrees F. Serve over rice or noodles.