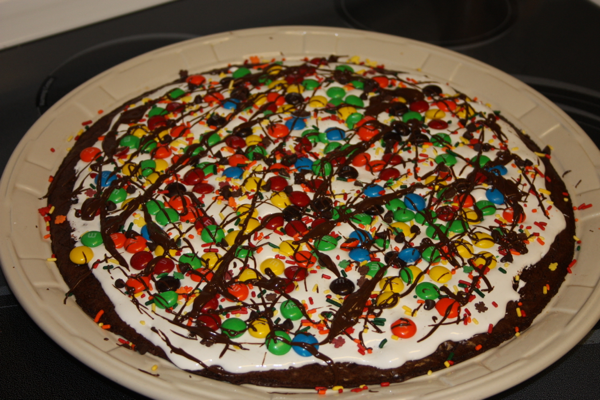 This past weekend the boys celebrated their birthdays with a few friends by going bowling and playing laser tag. I posted pics of the party on Facebook and several people commented on the "cake" we had at the party. The "cake" was an invention of desperation.
I have been a single mom for the past week while Jeffrey is on a business trip. Let's just say that I have a new appreciation for single moms. I didn't realize how much I relied on the tag team approach to childcare. Friday night, I finally got around to making the dessert for the boys party. It was only after the boys were in bed that I realized I didn't have enough powdered sugar to make frosting. This realization forced me to start getting creative since I couldn't just run out and pick up a package of powdered sugar. I knew I wouldn't have time to do anything Saturday morning before the party due to a soccer game so I started searching in the pantry for something to use in place of frosting. Fortunately, I had a jar of marshmallow creme. From this point I just started pulling anything and everything out of the pantry trying to create a fun dessert that the boys would enjoy.
If you enjoyed the idea of the large cookie cake I blogged about recently, here is another fun alternative to your traditional birthday treats. This brownie cookie was a hit. The boys thought it was awesome and I was able to create it with things I found in the pantry. So even though this is more of a throw-together-dessert it will be a hit with your kiddos. I think it would make a great addition to a Halloween celebration.
Brownie Cookie
Ingredients:
brownie batter (you can use a mix or your favorite recipe)
marshmallow creme
M&M's
sprinkles
chocolate chips, melted for drizzling
Directions:
Using your favorite recipe for brownies or a box mix put together the brownies according to directions but pour the batter in a round oven proof platter or stone instead of a square or rectangle baking pan. Bake for 20-25 minutes. Once the brownie has finished baking let it cool completely. Spread the marshmallow fluff over the top of the brownie using an offset spatula. Sprinkle with toppings of your choice. I used M&M's, fall decorating sprinkles, and mini chocolate chips. To finish the brownie cookie, melt some chocolate chips and drizzle over top the cookie.