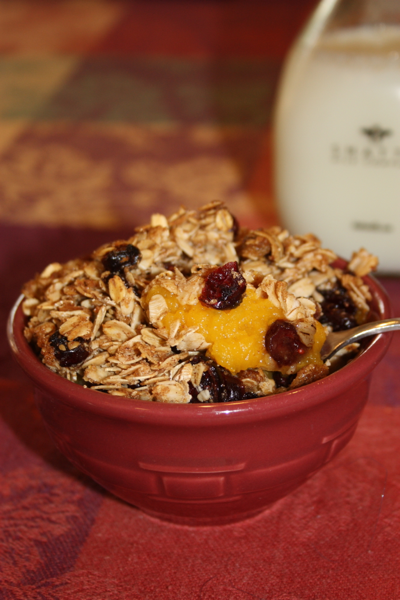 Don't let the name fool you. This crisp is perfect breakfast food and you won't/shouldn't feel guilty eating it.
Last week, I cooked a couple of pie pumpkins that I received from my CSA. My family loves pumpkin so I thought it would be nice to have some homemade pumpkin purée on hand. When I decided to cook the pumpkins, I had no idea how much pumpkin purée the pumpkins would yield. My two small pumpkins yielded a medium-sized bowl of deliciousness. Since I cooked the pumpkin, I have been looking for new ways to use this culinary treasure.
I saw this recipe on the Internet and since I had all the ingredients on hand I decided to give it a try. I wasn't sure about including the coconut milk in the recipe because I have only used coconut milk in a few curry recipes.  Since I was trying something new, I thought to myself, "why not go for the gusto and try something a out of my comfort zone?" I am so glad that I tried it! The coconut milk gives the pumpkin a subtle coconut flavor that really seems to compliment the other flavors.
I was pleasantly surprised at how quick and easy this crisp was to put together. I was looking for a good wholesome breakfast after my workout and this crisp really hit the spot. The pumpkin is not overly sweet and while it won't necessarily remind you of pumpkin pie I think the crisp was delicious.  To be sure, I have never been one to turn my nose up at eating a piece of pumpkin pie for breakfast and actually love to do so around Thanksgiving, but this will be an easy quick treat I can use to substitute when I don't have a pie sitting around or want something healthier.
*To bake fresh pumpkins: Cut them in half, scoop out the seeds then place them on a large baking sheet face down. Add 1/4-1/2 cup of water to the pan and bake them at 375 degrees for about 40 minutes. You will know they are done when a knife easily pierces the skin and deflates the pumpkin halves. Let them cool for a few minutes and then scoop out the flesh.
Pumpkin Coconut Cranberry Crisp
Printer Friendly Recipe
Serves: 2
Ingredients:
1 cup pumpkin puree
1/4 cup coconut milk
1 tablespoon honey
1/4 teaspoon vanilla extract
1/2 cup old fashioned oats
1/4 teaspoon ground cinnamon
1/4 cup dried cranberries
1 tablespoon brown sugar
1 tablespoon unsalted butter, melted
Directions:
Preheat oven to 375˚F. In a medium mixing bowl, combine the pumpkin purée, coconut milk, honey and vanilla extract. Whisk together until the mixture is smooth and well incorporated. In another mixing bowl, combine the oats, cinnamon, dried cranberries, brown sugar and melted butter. Stir together until well combined.
Divide the pumpkin mixture between two 6oz oven proof ramekins or bowls. Once you have the pumpkin mixture distributed, top it with the oat mixture. Place crisps in the oven and bake for 15 minutes. Serve and enjoy!