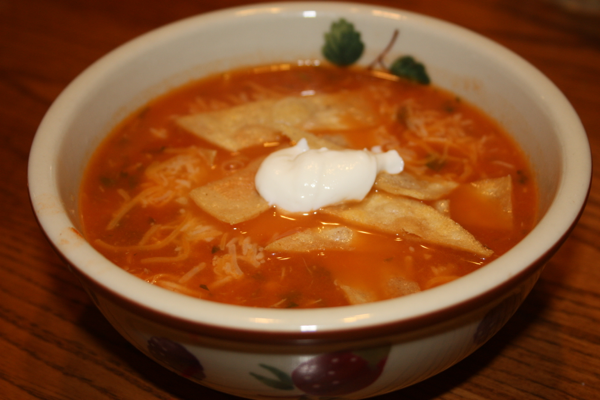 The first time I ever had chicken tortilla soup was when I was in college. Jeffrey and I were on a date and we were eating at Houston's. The soup sounded delicious so I ordered it and it quickly became a favorite of mine. Since that first experience, I wanted to recreate the recipe at home, but was unsuccessful until a couple of years ago. I tried using the soup mixes from the store and that just didn't seem the same as making it from scratch. I was very pleased when I came across this recipe.
Jeffrey and I were attending a casual dinner party and were suppose to take soup or sandwiches. I decided to opt for bringing soup and then started searching for a recipe worthy of the occasion. I found this recipe for my beloved soup and decided to give it a try because it sounded interesting and pretty easy. I was happy to discover that the soup was not only easy to throw together but it also lived up to my expectations. Being able to create a delicious chicken tortilla soup from scratch at home was a culinary victory. YEAH! I love it when I am able to recreate a delicious restaurant item at home. I can now control the ingredients and still enjoy the flavors I fell in love with. A win-win situation in my opinion.
So as the weather is cooling off this is a great recipe to try. It has just enough spice to warm you up and the flavor is a a keeper in my book. Do you have a restaurant favorite that you want to be able to recreate at home?
*If you want to save time when making this recipe buy pre-made tortilla chips. I think the frying of the tortillas is the most labor intensive part of the recipe but definitely worth the effort if you have the time.
Chicken Tortilla Soup
Printer Friendly Recipe
Ingredients:
1 tablespoon oil
2 large onions, chopped
8 cloves garlic, minced
1 tablespoon plus 1 1/2 teaspoon coarse kosher salt
1 teaspoon ground cumin
1/2 teaspoon red chile flakes
12 cups reduced-sodium chicken broth
1 28 oz. can diced tomatoes
juice of 2 limes
1 package (8oz.) small corn tortillas, cut into 1/4 in-thick strips
4 pounds boneless, skinless chicken breast, cut into 1/4 inch thick strips (or use a whole shredded chicken that has been cooked)
1 cup chopped fresh cilantro
sliced avocado, sour cream, grated Monterey Jack cheese
Directions:
Heat 1 tablespoon of oil in a large soup pot over medium heat. Add onions and cook until translucent, 5-7 minutes. Stir in two-thirds of the garlic, 1 tbsp. salt, cumin, and chile flakes and cook 2 minutes.
Add broth, tomatoes, and half of the lime juice and increase heat to a gentle simmer; cook 20 minutes.
Meanwhile, pour about 1 in. of vegetable oil into a small frying pan set over medium-high heat. When oil is hot but not smoking, add one-third of the tortilla strips and cook until golden brown and crisp, about 2 minutes. With a slotted spoon, transfer strips to a paper towel-lined sheet pan. Repeat with remaining strips. Sprinkle with salt while hot. Set aside.
Puree soup. (I use an immersion blender but if you don't have one just put it in your blender in batches.) Return soup to pot and resume simmering. In a small bowl, toss chicken with remaining lime juice, garlic, and add 1/2 tsp. salt. Marinate at room temperature for 10 minutes, then add to soup and simmer until chicken is cooked/heated through. (I prefer cooking a whole chicken and using the shredded chicken in this recipe but you can cook the chicken strips in the broth as well and either way is delicious.) Stir in cilantro just before serving.
Serve with tortilla strips, avocado, sour cream, and shredded cheese.