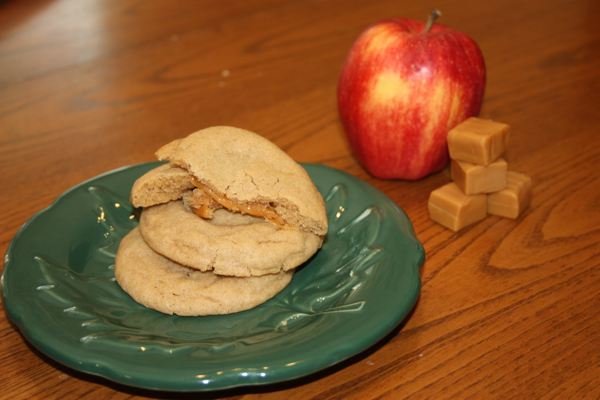 When I think of fall the thoughts that come to mind are apples, spices, fallen leaves, sweatshirts, boots and of course pumpkins. It is one of my favorite times of the year, which is apparent with all of the fall flavors that have been coming out of my blog lately. This cookie is following the same lines. It is fall in a cookie.
I first saw this cookie one day as I was messing around on Pinterest. The flavors all sounded intriguing and who doesn't love caramel? Honestly, I probably would have just looked at it and thought "ah that's cool" but not given it a second look if I didn't have a box of cider packets in my pantry that needed to be used. I am gradually eliminating things from my kitchen and trying to make more and more items from scratch or buy them locally so I thought: "why not make the cookie and get rid of a product I don't want to keep in my pantry?"
How did the cookies go? The verdict was the cookie was quite delicious. I actually enjoyed it quite a bit. So much so that I will be on a quest to figure out how to make the yummy cookie using real apple cider and apples as opposed to the packet of powder that tastes like cider.
So why am I sharing the recipe with you? Well, it did taste mighty scrumptious; especially if you balance the cookie overtop a mug of hot apple cider just long enough to soften the caramel. YUM! Not everyone will have objections to using the powder stuff and who knows maybe you have a box of the stuff in your cabinet as well and are looking for a way to dispose of it. ☺
So guilty conscience and all here is a sinful recipe. It epitomizes fall in the flavor category and will be a treat for your fall get-togethers. Don't worry–when I recreate the cookie you will be the first to know. Until then here is a "special" treat.
I think is time to get in the kitchen and work on some fall vegetable recipes it seems like I am overloading you with sweets.
Caramel Apple Cider Cookies
Printer Friendly Recipe
Ingredients
1 cup softened butter
1 cup granulated sugar
1/2 teaspoon salt
1 box (7.4 oz) Alpine Spiced Apple Cider Instant Original Drink mix -not sugar free- all 10 packets
2 eggs
1 teaspoon vanilla extract
1 teaspoon baking soda
1/2 teaspoon baking powder
1 teaspoon ground cinnamon
3 cups all purpose flour
1 14 ounce bag caramels
Directions
Preheat oven to 350° F. Line cookie sheets with parchment or silicone baking mat. (You really need either the parchment or silicone baking mat because the caramel will stick!)
In a small bowl whisk together flour, baking soda, baking powder and cinnamon.
With your mixer cream together butter, sugar, salt and all 10 packages of apple cider drink mix powder, until light and fluffy. Beat in eggs, one at a time. Add vanilla and mix well. Gradually add flour mixture to butter/egg mixture. Mix until just combined.
Refrigerate for about an hour. (I refrigerated mine overnight.)
When you are ready to bake, unwrap your caramels. Scoop out cookie dough ball about the size of a walnut. (I used a rounded cookie scoop-full. My scoop holds about a Tablespoon.) Flatten the ball of dough slightly in the palm of your hand. Press the unwrapped caramel into the center of your dough and seal the dough around it, covering it completely. Place on lined cookie sheets 2 inches apart.
Bake 12-14 minutes, or until very lightly browned around the edges. Don't over-bake! Once the cookies are done, slide the parchment or silicone mat off of the baking sheet right out onto a cooling rack. Allow cookies to partially cool on the parchment/silicone mat. When cookies are cool enough to be firm but still slightly warm, carefully twist off of and allow to finish cooling upside down (either on the parchment or on a rack.) If you forget about them and they cool too much and stick to your parchment, put them into the freezer for a few minutes and they'll pop right off.
Yield: about 4 -5 dozen, depending on how large you make your cookies. Store in an airtight container. If you are stacking them please not that the caramel will stick to the other cookies.