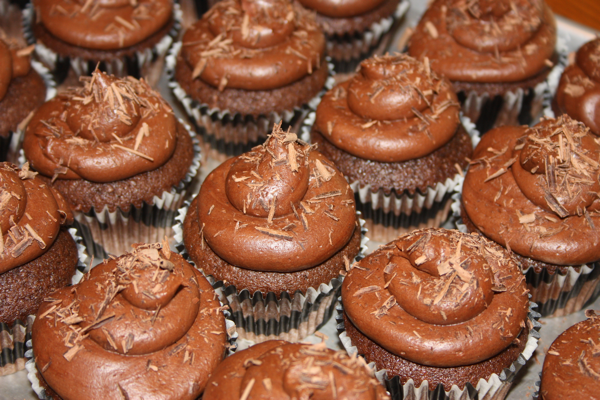 A couple of weeks ago, one of my friends asked if I would mind making some cupcakes for her co-worker's birthday. I told her that of course I would be happy to help her out. Michelle told me her friend was a fan of chocolate so I searched and searched for just the right recipe. This recipe is the one I finally decided on, and I think these cupcakes ended up being fabulous!
The cake and frosting are not for the faint of heart. I will go ahead and tell you that you must love dark chocolate to properly enjoy these cupcakes. When I called my friend to see how the cupcakes went over, she said they were a success. Her husband even ate one and told her, "I don't understand how a cupcake could taste this good." I'll take that as a good stamp of approval.
The recipe makes a huge amount of cupcakes (approximately 36) so make sure you have friends with whom you will share the bounty or you will be in trouble. My boys both enjoyed the cupcakes although both of them would have preferred a different frosting. I think it was a little too dark for even my little dark chocolate lovers. Jeffrey on the other hand, a certifiable dark chocolate addict/milk chocolate hater, has a new favorite cupcake.
Double Chocolate Cupcakes
Printer Friendly Recipe
For the cupcakes:
Ingredients:
3/4 cup unsweetened Dutch-process cocoa powder
3/4 cup hot water
3 cups all-purpose flour
1 teaspoon baking soda
1 teaspoon baking powder
1 1/4 teaspoons coarse salt
1 1/2 cups (3 sticks) unsalted butter
2 1/4 cups sugar
4 large eggs, at room temperature
4 teaspoons vanilla extract
1 cup sour cream, at room temperature
Directions:
To make the cupcakes, preheat the oven to 350˚ F. Line standard cupcake pans with paper liners. In a small bowl, whisk together the cocoa powder and hot water until smooth. In a medium bowl, whisk together the flour, baking soda, baking powder, and salt; set aside.
In a medium saucepan, combine the butter and the sugar over medium heat. Heat, stirring occasionally to combine, until the butter is melted. Remove the mixture from the heat and transfer to the bowl of an electric mixer fitted with a paddle attachment. Beat on medium-low speed, 4-5 minutes, until the mixture is cooled. Mix in the eggs, one at a time, scraping down the sides of the bowl as needed and beating well after each addition. Mix in the vanilla and then the cocoa mixture and beat until incorporated. With the mixer on low speed, add in the dry ingredients in two batches, alternating with the sour cream, beating just until combined.
Divide the batter between the prepared cupcake liners, filling them about 3/4 of the way full. (I like to use a large Pampered Chef scoop to insure even distribution of the batter.) Bake 18-20 minutes or until a toothpick inserted in the center comes out clean, rotating the pans halfway through baking. Allow the cupcakes to cool in the pan 5-10 minutes, then transfer to a wire rack to cool completely.
For the frosting:
Ingredients:
14 ounces bittersweet chocolate, finely chopped
9 ounces cream cheese, at room temperature
9 tablespoons unsalted butter, at room temperature
3 cups confectioners' sugar, sifted
6 tablespoons unsweetened Dutch-process cocoa powder
Pinch of salt
1 cup plus 2 tablespoons sour cream
Directions:
To make the frosting, melt the chocolate in a heat-proof bowl set over a pot of simmering water. Set aside to cool until just barely warm. In the bowl of a stand mixer fitted with the paddle attachment, beat the cream cheese and butter on medium-high speed until pale and fluffy, about 3-4 minutes. Gradually mix in the confectioners' sugar, cocoa powder and salt. Beat in the melted and cooled chocolate and then the sour cream. Continue beating until the mixture is smooth and well blended. Frost cupcakes immediately. Garnish with chocolate shavings if desired.
Recipe adapted from Martha Stewart's Cupcakes