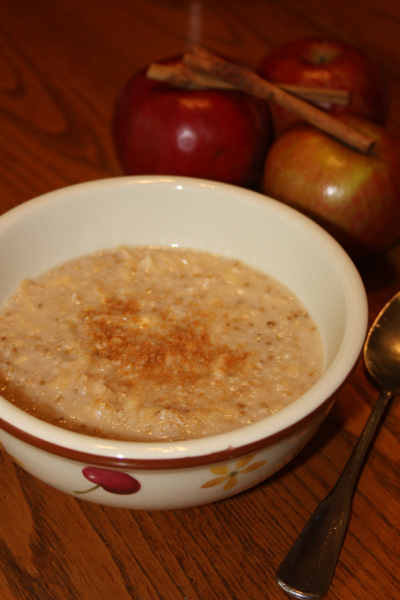 Cinnamon and apples scream fall to me. This recipe is a perfect breakfast anytime of the year, but it is especially good with fall apples.
I tried steel cut oats for the first time this spring and I fell in love with them. If you haven't tried them yet, you owe it to yourself to give them a try. They have a nuttier flavor and are a little bit chewier than rolled oats. I'm not throwing out my rolled oats, but I am loving the addition of steel cut oats to my breakfast repertoire.
This recipe takes about 40 minutes from start to finish so it is not something I start before school. There is no way my boys would make it to school on time. I do, however, make a batch either in the afternoon when the boys are at school or on the weekend. It is great reheated! Can you say that about rolled oats? I didn't think so. It is great to have in the fridge to be heated up for a nice hot and filling breakfast. Tyler especially loves to dish out a bowl of these for breakfast.
Cinnamon Apple Steel Cut Oats
Printer Friendly Recipe
Yield: 4-6 servings (about 1 quart of cooked oatmeal)
Ingredients:
3 cups water
1 cup milk (I use skim milk.)
1 tablespoon unsalted butter
1 cup steel-cut oats
¼ teaspoon salt
¼ teaspoon ground cinnamon
1 cup apple, peeled, cored and grated
⅓ cup raisins (optional)
¼ cup maple syrup
Directions:
Combine the water and milk in a medium saucepan. Bring to a simmer. Meanwhile, melt the butter in a 10- or 12-inch skillet over medium heat. Add the oats and toast, stirring occasionally, until golden and fragrant, about 2 minutes.
Stir the toasted oats into the simmering liquid. Reduce the heat to medium-low and simmer gently until the mixture begins to thicken, about 20 minutes. Stir in the salt, cinnamon, apple, raisins (if using) and maple syrup. Continue to simmer, stirring occasionally, until all of the liquid has been absorbed and the oatmeal is creamy and thick, about 10 minutes more.
Remove from the heat and let stand 5 minutes before serving. Refrigerate any leftovers for reheating throughout the week.