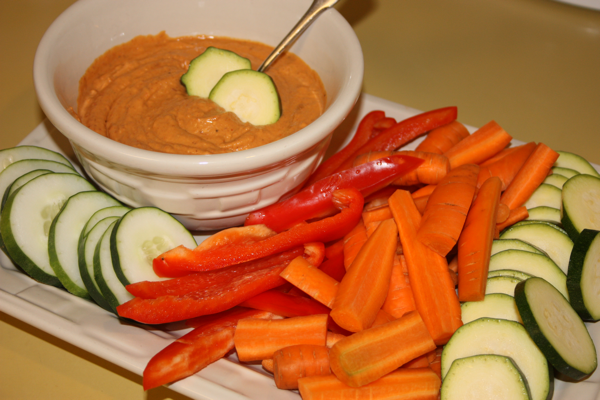 On Wednesday of this week, I spent most of the day working on a grant proposal where I was talking about getting kids to eat more fruits and vegetables. I have to confess that while I was talking about all the benefits of healthy eating, I was indulging in some leftover cupcakes I had made for a friend. Double chocolate cupcakes!
I guess you can say I began to feel "convicted" so I pledged to eat more fruits and veggies myself. When I checked my email on Thursday morning, there was a recipe for a roasted red pepper dip. I had several peppers in my fridge that I needed to do something with so the timing of the email was perfect. I roasted the red peppers in my oven (almost smoking myself out of the house in the process). It was totally worth it though. When I took the first bite of this dip, I was in love. It was incredible! I quickly sent Jeffrey an instant message telling him of my new dip.
I had several veggies in the refrigerator, and I even picked some carrots out of the garden so I could have a tray of yumminess for a snack. The dip was so addicting. I munched and munched and could hardly make myself stop. When Jeffrey got home, he sampled a bite and was instantly won over. He normally hates veggie trays, but stood eating quite a few veggies before heading out the door to take William to soccer. I will call it a success. Jeffrey even suggested this name for the dip because he liked it and thought it was very different from traditional ranch style dips for veggies.
Not Yo Mama's Veggie Dip
Printer Friendly Recipe
Ingredients:
1 (15 ounce) can great northern beans, drained and rinsed
½ cup chopped roasted red peppers (see below for instructions on roasting), patted dry
2 ounces cream cheese, softened
½ teaspoon salt
¼ teaspoon freshly ground pepper
¾ teaspoon ground cumin
½ teaspoon chili powder
¼ teaspoon paprika
2 garlic cloves
½ teaspoon red pepper flakes
2 tablespoons extra virgin olive oil
1 teaspoon balsamic vinegar
Directions:
Combine all ingredients in a food processor and pulse until smooth. Adjust seasonings to taste. Serve as is or refrigerate until later. Great with veggies, pita chips, and even corn chips.
*To roast your own red peppers:
Rub 4 red bell pepper with olive oil (I used about 2 tablespoons). Place on a baking sheet or stoneware baking pan and roast in an oven set on 500 degrees for 30-40 minutes. (I don't worry about preheating the oven, I just put them in and turn on the oven.) When the skin of the peppers begins to char (become black) remove the peppers from the pan using tongs and place them in a medium sized bowl. Cover the bowl with plastic wrap and let the pepper cool for about 30 minutes. Once the peppers have cooled, pull the stem out and remove the outer skin from the peppers. Roughly chop into desired size. Keep in a covered container in the refrigerator for about 2 weeks. You can add additional olive oil to the pepper while storing them if desired. (I used about 2 peppers for the dip).