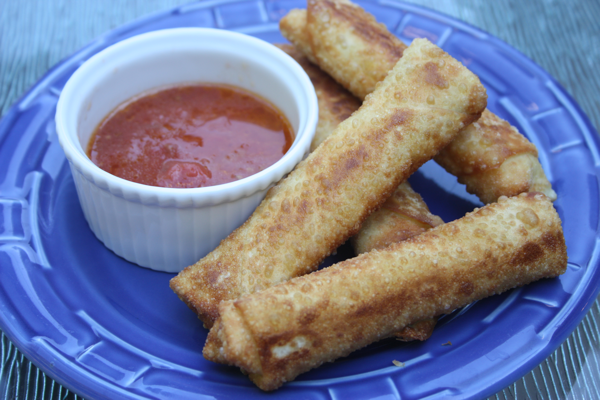 Are you familiar with Pinterest? I have to confess that it is one of my new guilty pleasures. I probably will develop carpal tunnel from scrolling down looking at all of the different pins. If you are not familiar with it, it is a website where you can bookmark different things you find on the Internet and also view what others find interesting. As I mentioned earlier, it can be quite time consuming but it is also fascinating.
I love seeing all the things people find interesting. It is also quite helpful as I am working on subjects for my blog. I can see different trends and things that people really enjoy or are interested in which allows me to be more on target with what you want to see. I also love it because I am always browsing the internet looking for inspiration, and Pinterest offers a great way for me to tag or "pin" things I want to make.
I am telling you all of this because I found the recipe for these mozzarella sticks on a pin a friend had posted on Pinterest. They are very easy and a great way to make mozzarella sticks at home without resorting to the frozen variety. I made mine using a whole string cheese stick, but next time I will cut mine in half so that the cheese can melt easier.
With football season upon us I think these will make a great addition to any get-together. They are yummy and super easy.
Mozzarella Cheese Sticks
Printer Friendly Recipe
Ingredients:
12 pieces string cheese
12 egg roll wrappers
Oil for pan frying (I used half olive oil and half canola oil.)
Marinara or spaghetti sauce for dipping
Directions
Place a piece of string cheese near the bottom corner of one egg roll wrapper (keep remaining wrappers covered with a damp paper towel until ready to use). Fold bottom corner over cheese. Roll up halfway; fold sides toward center over cheese. Moisten remaining corner with water; roll up tightly to seal. Repeat with remaining wrappers and cheese.
Add 1/4 – 1/2 inch of oil to a large skillet. Heat skillet over medium high heat. (If using an electric skillet heat oil to 375 degrees.) Fry sticks, a few at a time, for 30-60 seconds on each side or until golden brown. Drain on paper towels. Serve with marinara sauce.
Adapted from Taste of Home