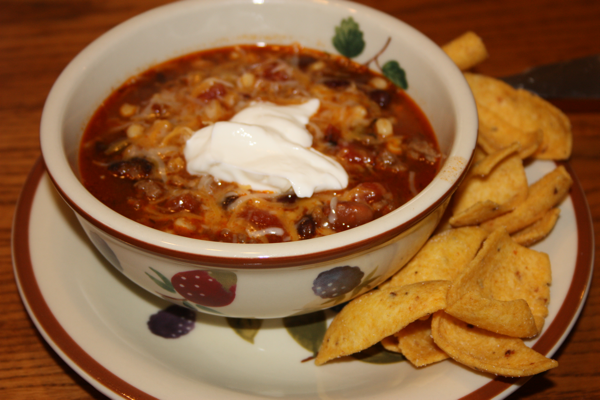 Let the fall weather begin! Yesterday was a beautiful day in Kansas City. With highs in the 70's it was magnificent. I even found myself reaching for a light sweater. When I glanced at the weather for the week, it looks like the 70's are here for a while. (I always find it fascinating that in the springtime 70 seems so hot but in the fall it seems rather chilly.) This weather calls for soup at our house!
I love when the seasons change but there is something about the fall weather that just seems comforting. A nice bowl of soup or chili, jeans, sweaters, and sweatshirts. Did I mention boots? Ahhhhh fall! I love it. To celebrate I find it only fitting to post one of my favorite soup recipes today. I have to warn you to double check the size of your ranch seasoning packet before dumping it into your soup. Several years ago Jeffrey was making this recipe and added way too much seasoning to the soup. It has taken years for him to actually enjoy the soup again. I am happy he is finally coming around because I really love this soup, but it is hard for me to eat the whole pot by myself.
So gather a group of friends, pull on a sweatshirt and enjoy a bowl of this soup as you embrace fall. I hope you will soon be enjoying the glorious weather that has finally decided to show its face in Kansas City. I only hope it stays around awhile because I love this weather and the comfort it brings.
Santa Fe Soup
Printer Friendly Recipe
Yields: 4 quarts
Ingredients:
2 pounds ground beef
1 onion, chopped
1 (1-ounce packet) ranch dressing mix
1 teaspoon cumin
1 tablespoon chili powder
1 teaspoon oregano
1/4 teaspoon black pepper
2 cloves garlic, minced
1 (16-ounce) can black beans, undrained
1 (16-ounce) can kidney beans, undrained
1 (16-ounce) can pinto beans, undrained
2 cans rotel
2 (16-ounce) cans white corn, undrained
2 cups water
Directions:
Brown ground beef and onion together in a large stock pot. When the ground beef is browned and cooked through, drain off the grease and return the beef and onions to the pot. Add the ranch dressing packet , cumin, chili powder, oregano, black pepper, and garlic to the meat and stir to coat. Combine all other ingredients and simmer for a couple of hours. We love to serve ours topped with sour cream and shredded cheddar cheese and fritos or tortilla chips on the side.