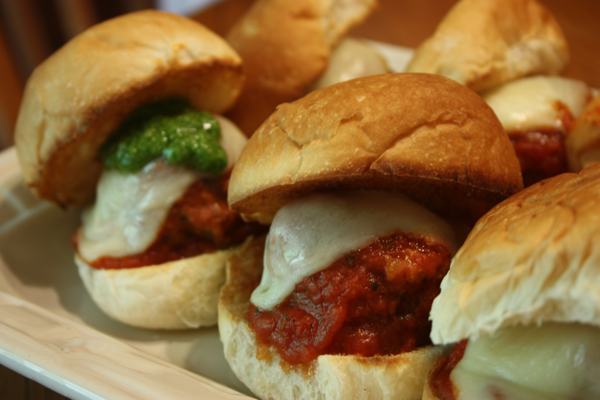 As I child, I loved getting meatball subs from a local sub shop. They were my favorite! Jeffrey had never tasted such a wonderful invention until several years ago. When I was trying to use up the last of a batch of homemade spaghetti sauce and meatballs, I made meatball subs. He found them tasty. Why wouldn't he? As much as I still love meatball subs, I do not purchase them from sub shops anymore nor do I like it when the meatball falls out of the sub and more than likely rolls down the front of someone's shirt. There is just something about having too many meatballs in a sandwich. It just doesn't work. That is where this recipe comes in. You have the fantastic flavors of my childhood, but with only one meatball on the roll the probability that the meatball will escape is much lower.
These little sandwiches are super kid friendly and such a treat. This recipe could easily be made for a weeknight meal since you use jarred pasta sauce. If you make homemade spaghetti and meatballs, just downsize your meatballs and it will be a great leftover meal when you are tired of eating pasta. Don't you love it when you can make something once and use it later in a repurposed meal?
I love garnishing my slider with pesto though they are quite delicious without. If you want some green without making or purchasing pesto, top with a basil leaf.
Italian Meatball Sliders
Printer Friendly Recipe
Ingredients:
½ cup Panko or breadcrumbs, divided
¼ cup milk
1 lb. ground beef
1 egg
1 teaspoon Worcestershire sauce
1 clove garlic, minced
1 teaspoon salt
½ teaspoon black pepper
1 teaspoon dried parsley
½ teaspoon dried basil
1 large jar pasta sauce
24 dinner rolls (potato or egg rolls are my favorite)
6 slices provolone cheese, cut into quarters
pesto (for garnish)
Directions:
Preheat oven to 350 degrees.
Combine ¼ cup of the Panko with the milk and let stand for about 10 minutes in a medium mixing bowl. Add the remaining breadcrumbs, ground beef, egg, garlic, salt, pepper, Worcestershire sauce, parsley and basil to the bowl. Mix well until thoroughly combined. (I like to use my hands for this task.) Form into small balls approximately 1-inch in diameter (heaping tablespoons).
Place the meatballs in either a 9X13 baking dish or on a broiler pan. Bake for about 25 minutes turning the meatballs over halfway through the cooking time. The meatballs should be nicely browned.
While the meatballs are baking, pour the pasta sauce into a large saucepan and bring to a simmer. Once the meatballs have finished cooking add them to the simmering pasta sauce. Simmer for about 5 minutes over low heat.
Slice your dinner rolls in half and lay open on a baking sheet. Place one meatball, small amount of sauce and provolone cheese on the bottom of each roll. Leave the tops on the sheet to toast while the cheese melts. Place the baking sheet in the oven until the cheese has melted (about 5 minutes).
Garnish with spoonful of pesto (if desired) place the toasted top half of the roll on top and enjoy.