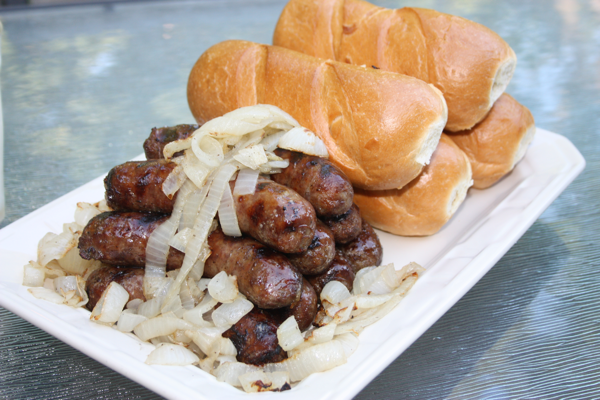 I know you are thinking I have lost my mind. Brats? How does this even fit into Dinah's philosophy of food? Well, everything in moderation is my motto. I think we eat these once or twice a year.
I must confess that when Jeffrey and I moved to Kansas City I had no desire to even try brats. Coming from the South, I had never even heard of such a thing and I was not about to eat one. One day, after living in Kansas City for almost 10 years, I headed to the grocery store while I was hungry and sampled a brat while doing my grocery shopping. I don't know if it was the fact that I was starving or what it was to be honest, but I enjoyed it.
Fast forward a couple of years … Jeffrey and I attended a party where the hosts were grilling out and brats were on the menu. The smell was heavenly and they tasted delicious! (I guess living in the Midwest is rubbing off on me.) I was thinking about those brats earlier this year and asked my friend for the recipe. So nearly a year after eating the one at her party, Jeffrey and I attempted to cook our own.
You begin by cooking the brats in a mixture of butter, onions and beer and then finish them off on the grill. I'm not sure what part makes them so yummy to me but they are definitely a guilty indulgence. They are very flavorful and juicy.
This week has been quite hectic so after a quick shopping trip to Trader Joe's and finding some brat buns I knew we were going to indulge and eat something that is normally not on the menu. It was a nice treat and not too much work which is what this tired mom needed. So as football season and fall are about to begin make sure to keep this recipe handy for a yummy guilty pleasure.
Also, I would like to congratulate Shelley who won the t-shirt from my giveaway! I'll be contacting you so you can claim your prize. Thanks for all the comments and for a great first year.
Grilled Brats
Printer Friendly Recipe
2 lbs bratwurst
2 onions, thinly sliced
1 cup butter
6 12 ozs bottles beer (I used Boulevard wheat, but my friend has also used a German white beer.)
1 1/2 tsps ground black pepper
Hoagie rolls or brat buns
Prick bratwurst with fork and place in large stock-pot with onions, butter, beer and black pepper. Cook over medium heat and simmer for 15-20 minutes. Drain off the beer reserving the onions. Grill the brats for 10-14 minutes on a hot grill. Serve on brat buns or hoagie rolls with the reserved onions and spicy mustard.