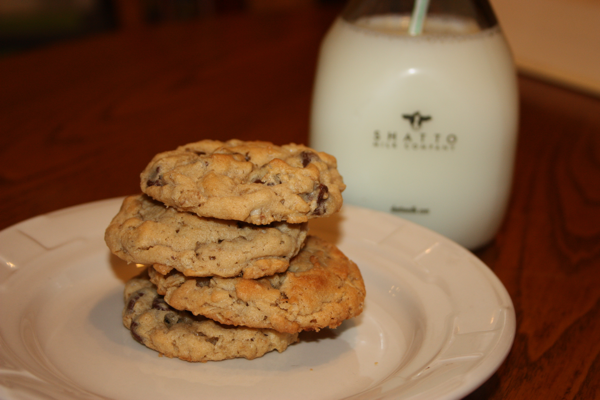 I probably should call this recipe the everything but the kitchen sink cookie. Instead, listing all the components just seems more appropriate and yummy. This week has just been one of those weeks where I got to Thursday and decided I needed cookies!
I was expecting to get so much done with the boys back in school, but instead it seems like I have been running from one thing to the next. Our clothes washer decided to die and so waiting on repairmen, then deliverymen has wrecked havoc on my plans. Oh well, at least I can enjoy cookies to drown my sorrows.
I have to thank my friend Karla for this amazing recipe. Last spring, on another crazy day I was having she offered to bring a treat to the small group Jeffrey and I were hosting at our house. These cookies were a big hit! They helped ease the craziness on that day and they are easing the craziness of this week as well.
These cookies will make a great after-school treat for the kids, but adults will love them as well. When Jeffrey came down to the kitchen while I was baking the cookies, he said the kitchen smells amazing. I had to agree. They certainly did make the kitchen smell nice. They also were quite delicious and a welcomed escape from the craziness.
Peanut Butter Oatmeal Chocolate Chip Cookies
Printer Friendly Recipe
Ingredients:
¾ cup butter, softened
½ cup peanut butter
1 cup granulated sugar
½ cup brown sugar, packed
1 teaspoon baking powder
½ teaspoon baking soda
2 eggs
1 teaspoon vanilla
1 ¼ cups flour
2 cups rolled oats
1 cup semi-sweet chocolate chips
Directions:
Preheat oven to 375 degrees.
In a large mixing bowl beat butter and peanut butter with an electric mixer on medium-high speed about 30 seconds or until combined. Add granulated sugar, brown sugar, baking powder, and baking soda. Beat until combined, scraping the sides of the bowl occasionally. Beat in eggs and vanilla until combined. Beat in as much of the flour as you can with the mixer. Stir any remaining flour in by hand. Stir in rolled oats and chocolate chips by hand.
Drop dough by rounded teaspoons (use a small scoop if you have one) 2 inches apart on an ungreased cookie sheet. Bake for 8-10 minutes or until lightly golden brown. Let cool on pan for a few minutes before removing to a wired cooling rack.