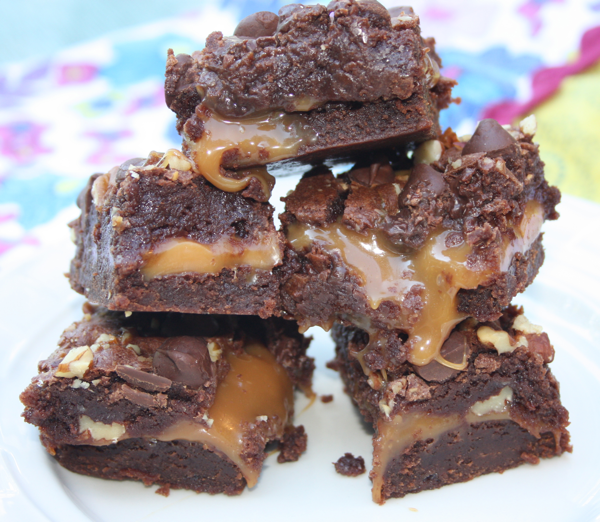 I can't believe I have been blogging for 1 year! Happy Blogiversary to us!
I originally started this blog as a way to share recipes and as a way to help me cope with the fact that my youngest was starting kindergarten. I now have one in 3rd grade and my "baby" is in 1st grade. I never imagined how much I would enjoy blogging. I love sharing recipes and have really enjoyed getting to know many of you through your comments. I love hearing from my readers!!!!
Just for kicks, I thought it would be fun to share some of the statistics about dinahs-dishes.com.  In our fist year, we have had over 40,000 page views, over 7,000 visitors who visited the site almost 19,000 times.  We've had 158 posts, 530 comments and the readers have come from 85 different countries. I hope you don't mind me sharing. I thought it was really cool that something I've enjoyed doing has been enjoyed by so many others.
My blog has become more than I ever imagined. It is a good outlet and a good discipline for me.  It is easy to go from one thing to the next as a busy mother and never take time for ourselves (what my friend calls a "me moment"). I have been guilty of not taking time for myself way to often in the past, but I have found that writing my posts each week has given me a "me moment" and an outlet to share with others. It also has helped me realize how important it is for each of us to take the time so we can recharge.  Obviously that means different things for different people. What does your "me moment" look like?  Is it time spent reading, checking out blogs, exercising, or knitting? I think "me moments" are whatever gives you the energy to keep going.  All I know is that being a mother and staying sane demands at least occasional breaks. I actually hope that somehow my little blog can help inspire and give you a "me moment" as well.
The recipe I am sharing today is definitely on the indulgent side. I will be honest and say that when I saw this brownie recipe the desire to make it was all about me. I didn't care if anyone else liked it or not. I knew I would love them. (Actually that isn't true–I did leave half of the pan without pecans so the boys could enjoy them. However, they informed me there was too much caramel so I have been the one to eat a majority of the leftovers.)
To help us celebrate taking time for ourselves as mothers and to celebrate the anniversary of the blog, one of my friends has offered to giveaway one of her awesome shirts. She is a mother of three girls and knows all to well what it is like to long for a "me moment." She has designed t-shirts that help remind and celebrate the me moments we long for as we go through our crazy/hectic days. I have the Peace shirt and LOVE it! I can't wait for the lucky winner to receive the shirt of their choice. I know you will love her shirts as much as I do.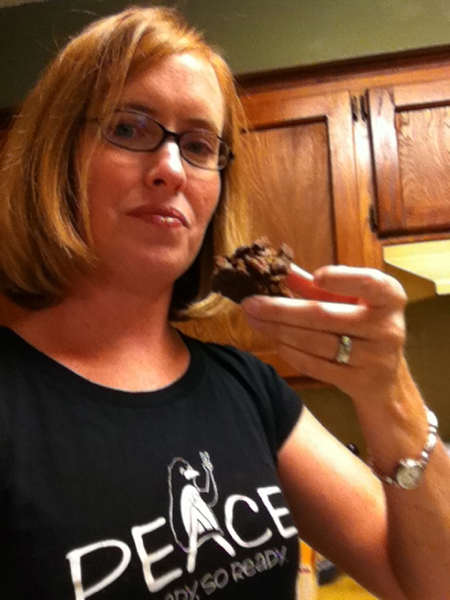 To enter for a chance to win a Ready, So Ready shirt you need to leave a comment on my blog telling me your favorite post/recipe over the past year, and which shirt you would pick from So Ready Designs. To receive a second entry repost a link either on facebook or twitter letting others know about the giveaway and leave a separate comment telling me how you shared the blog/giveaway. Entries will be accepted through Wednesday, August 24th and the winner will be announced on Friday, August 26th!!! Good Luck!
Turtle Brownies
Printer Friendly Recipe
Ingredients:
For the brownies:
1 cup (2 sticks) unsalted butter
12 oz. bittersweet chocolate, coarsely chopped
1½ cups sugar
4 large eggs
1 tbsp. vanilla extract
1¼ cups all-purpose flour
½ tsp. salt
1½ cups pecan, coarsely chopped (optional)
1 cup semisweet chocolate chips
For the caramel filling:
14 oz. caramel candies, unwrapped
1/3 cup heavy cream
Directions:
Preheat the oven to 350˚ F. Line a 9×13-inch baking pan with foil and grease the foil well with butter or cooking spray.
Combine the butter and chocolate in a heatproof bowl. Microwave in 30 second intervals, stirring in between, until completely melted and smooth. (Alternatively, set bowl over a pan of simmering water and heat, stirring occasionally until completely melted and smooth.) Once the butter and chocolate have melted whisk in the sugar, eggs and vanilla until incorporated. Stir in the flour and salt just until combined. Spread about half of the brownie batter in the bottom of the prepared pan in an even layer. Bake for 20 minutes. Remove from the oven, maintaining the oven temperature, and let cool for 20 minutes.
Meanwhile, toast the chopped pecans until light golden brown and fragrant in a skillet over medium heat. Remove from the heat and set aside.
To make the caramel filling, combine the caramel candies and cream in a medium saucepan over medium-low heat. Heat, stirring frequently, until melted and smooth. Stir in half of the pecans. Immediately spread the caramel mixture over the bottom brownie layer.
Pour the remaining brownie batter over the caramel layer, (be careful to pour and spread it evenly otherwise it will be difficult to spread evenly over the caramel layer. Sprinkle the chocolate chips and the remaining pecans on top. Bake for 20 minutes. Transfer to a wire rack and let cool completely before slicing and serving. (To speed cooling, chill in the refrigerator or freezer for at least 30 minutes.)
Lift the brownies from the pan using the edges of the foil. Remove the foil and cut the brownies into individual squares. Store in an airtight container.
*If you don't want pecans in all of the brownies just sprinkle pecans on half of the cooked bottom layer before adding the caramel and then only top that side of the brownies with the pecan garnish on top or omit pecans altogether and enjoy caramel brownies.