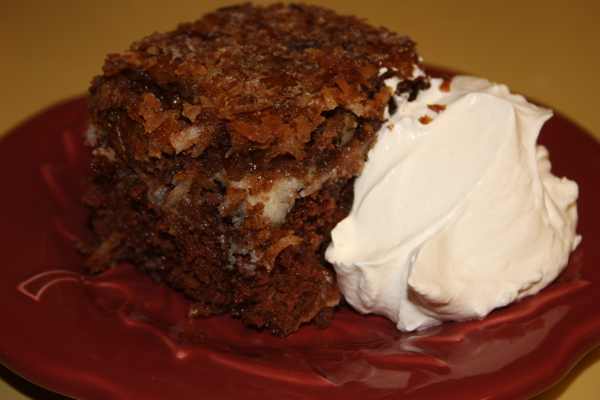 Let's get the bad news out of the way. While quite delicious, this cake will not win any awards for its beauty. It is actually quite ugly, but what it lacks in aesthetics it more than makes up for in taste.
Growing up in the South you quickly learn that some of the best recipes come from friends and church cookbooks. It seems to me that everyone tries to contribute the best and most unique recipes to these cookbooks. This is one of those recipes. One of my mom's friends submitted it to the church cookbook.  Happily, she had shared it with our family before she thought of adding it to the cookbook. We all thought it was delicious and unique.
Several years later, Jeffrey and I opened our home up and had a drop in reception for his grandparents when they were visiting us. I knew I wanted to make something easy and unique and this dessert quickly came to mind. I guess it was well received because a couple of years later our church in Kansas City was putting together a cookbook and this recipe was submitted in my name from someone who had attended the reception and then requested the recipe. I guess they thought it was a keeper and needed to be shared even more.
I hadn't made this cake in years, but it came to my mind when we were having guests for dinner. I can honestly say Jeffrey and I have been enjoying the leftovers for several days and have even found ourselves eating it with chocolate gelato to make it even more delicious. I always find it fascinating how things transform while baking. The cream cheese layer that is layered on last during the assembly becomes a creamy center for the cake that acts as your frosting only it is layered between the coconut and pecans and cake. If you are looking for an out of the ordinary recipe, you really should give this one a try.
German Chocolate Upside-down Cake
Printer Friendly Recipe
Ingredients:
1 ½ cups chopped pecans
1 ½ cups coconut
1 package German chocolate cake mix
1 stick butter
1 8-ounce package cream cheese
1 (1 pound) box powdered sugar
Directions:
Grease and flour a 9″ by 13″ cake pan. Mix pecans and coconut together and spread evenly in the bottom of the prepared pan. Mix cake mix according to package directions and pour over the coconut-pecan mixture. Melt the butter and cream cheese together in a large skillet. Remove from heat and stir in the powdered sugar. Spoon the the cream cheese mixture on top of the cake batter. (While the cake bakes this mixture becomes the middle layer of the cake.) Bake at 350 degrees for 35-40 minutes. Cool completely in pan before turning upside down.