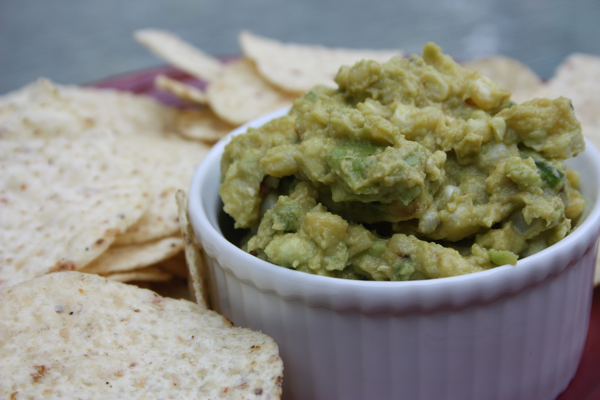 Guacamole and avocados are most definitely favorites of mine. I first fell in love with guacamole on a trip to Texas to visit Jeffrey's Aunt Barb. I think it was the first time I had ever had homemade guacamole. I think it was life changing. There is just something about making something from scratch. It just tastes better. Since that event, I have fallen in love with guacamole and thanks to an awesome present from Jeffrey's brother and sister-in-law I have the coolest mortal and pestle to make the guacamole in.
Needless to say, we make guacamole quite often at our house to go with the abundance of Mexican food that we eat. I am mostly a purest when I eat guacamole, but occasionally I will stray from the avocado, garlic, salt, lime juice, jalapeno, red onion concoction. When we were in San Francisco, Jeffrey convinced me to try the chipolte pepper guacamole and it was quite delicious. I recently saw a recipe on The Pioneer Woman's blog for a grilled corn guacamole and thought it was worthy of a try. We actually paired our traditional guacamole, with grilled corn and the adobo sauce from the chipolte peppers and it was sensational. We really thought the adobo sauce brought out the smokiness of the corn and the overall flavor was a nice alternative to our traditional version. We will definitely be having this again.
Guacamole with Grilled Corn and Adobo Sauce
Printer Friendly Recipe
Ingredients:
1 ear corn, shucked
2 avocados
salt to taste
1 clove garlic minced
1 jalapeno seeds removed and chopped finely
1 lime
1 teaspoon adobo sauce (from a can of chipolte peppers in adobo sauce)
Directions:
Grill corn until nice and golden, with good grill marks on the kernels. Allow to cool a bit, then cut the kernels off the cob. Set aside.
Halve avocados and remove pit. Cut avocado into a dice inside the skin, then scoop out with a spoon.
Using a mortal and pestle combine the salt and garlic together until they become like a paste. Add the avocado and mash until the consistency that you like. (I leave a couple of large pieces of avocado.) Add the corn kernels, finely chopped jalapenos, and lime juice stirring gently to combine. Add the adobo sauce and stir until well combined. Serve with corn chips.