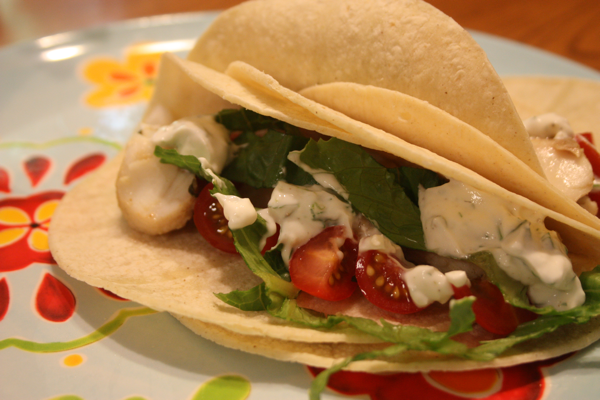 For several years now I have been addicted to fish tacos. They are one of my favorite things. Normally, I gravitate more toward the beer-battered variety. (I have an excellent recipe that I will share soon.) I had picked out this recipe to make while we were on vacation because I thought it would be a quick and easy meal. I also liked that I could take the seasoning with me and the other items needed would go well with other meals we had planned. Unfortunately, it didn't work out. Apparently, everyone else decided to take advantage of the fresh seafood at the beach. When we ran the the grocery store to pick up some fish, the store was completely empty. Oh well…you have to be flexible when on vacation.
When we got home, I decided to go ahead and make these. They were outstanding. I think they give my beer-battered ones a run for their money in terms of taste. Honestly, I can see myself making these more often because they are much better for us. We used tilapia because it is a very mild fish and a favorite, but feel free to try some other varieties (halibut or cod would work as well). The sauce on top is a must. It is delicious and really brings on some great flavors. I would have loved to have had these with some locally caught fish while at the beach, but the tilapia from my freezer turned out really well. I hope you give them a try.
Cilantro-Lime Marinated Fish Tacos
Printer Friendly Recipe
Ingredients:
For the fish:
2 tablespoons freshly squeezed lime juice
3 tablespoons extra virgin olive oil, divided
3 tablespoons finely chopped cilantro
¼ teaspoon cumin
2 cloves garlic, minced or pressed
1 lb. white fish (tilapia, halibut, or cod)
Salt
6-inch flour or corn tortillas (We are a divided family. I prefer the corn but the boys prefer flour.)
For the cilantro cream sauce:
Juice of 1 lime
2 tablespoons finely chopped cilantro
6 oz. greek yogurt or sour cream
1 clove garlic, minced
Pepper, to taste
Directions:
Combine the lime juice, 2 tablespoons of the olive oil, cilantro, cumin, and garlic in a shallow dish or pie plate, whisking together until well blended. Add the fish to the mixture, turning to coat. Let marinate 15-30 minutes.
Meanwhile, prepare the cilantro cream sauce. In a small bowl, combine the lime juice, cilantro, greek yogurt, garlic and pepper. Stir until well blended. Refrigerate until ready to use.
After the fish has had time to marinate, heat the remaining 1 tablespoon of olive oil in a large skillet over medium-high heat until shimmering. Place the fish in the pan and cook without disturbing for 3 minutes. Turn the fish over and cook on the second side 2-3 minutes more. Remove to a plate, season with salt as desired, and let rest for a few minutes. Take two forks and shred the fish into bite-sized pieces.
Assemble tacos on flour or corn tortillas with shredded fish, cilantro cream sauce and toppings as desired. Some of our favorites are: shredded cabbage (or lettuce), chopped green onions, and chopped tomatoes.