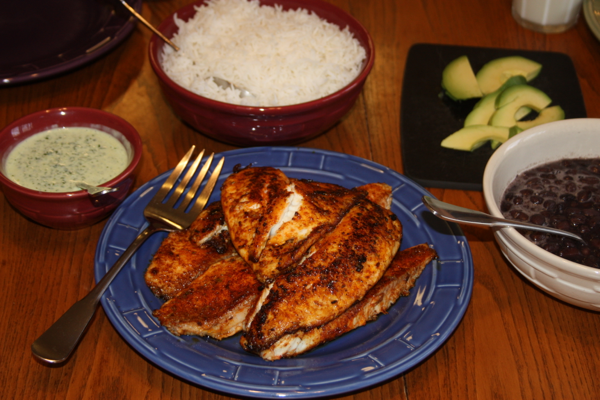 If you have been reading this blog for a while, it will come as no surprise that I love fish tacos. I have even shared some of my favorites (Cilantro-Lime Marinated Fish Tacos – I haven't forgotten my promise to share my beer-battered recipe). Although I definitely have my favorites, I always keep my eyes open when I come across a new recipe.
During Spring Break, I thought fish sounded like a nice easy meal so I picked up some Tilapia while I was at the store. I was trying to decide what to do with it and then finally settled on fish tacos. I saw this recipe and thought it sounded like it might be worth a shot. Boy was I glad I tried it! Not only was the fish super tasty; the cilantro cream sauce was outstanding. Jeffrey even said that the cilantro cream sauce should be the option in place of sour cream whenever we were eating Mexican food. (I think he liked it.)
So if you are trying to increase your fish intake, give this recipe a try. It was a top rated recipe at our house. (The boys enjoyed the fish though the sauce was a little to spicy for their tastes.)
Blackened Tilapia Baja Tacos
Ingredients:
1/4 cup plain Greek yogurt or sour cream
2 tablespoons chopped fresh cilantro
2 tablespoons fresh lime juice
1 jalapeño pepper, seeded and chopped
1 1/2 teaspoons paprika
1 1/2 teaspoons brown sugar
1 teaspoon dried oregano
3/4 teaspoon garlic powder
1/2 teaspoon salt
1/2 teaspoon ground cumin
1/4 teaspoon ground red pepper
4 (6-ounce) tilapia fillets
1 tablespoon canola oil
8 (6-inch) corn tortillas
1/2 ripe peeled avocado, thinly sliced
Directions:
Combine Greek yogurt, cilantro, lime juice, and jalapeño in a food processor; process until smooth. Pour into a small bowl and set aside.
Combine paprika, brown sugar, oregano, garlic powder, salt, cumin and red pepper together in a small bowl; sprinkle evenly over fish. Heat oil in a large skillet over medium-high heat. Add fish to pan; cook 3 minutes on each side or until desired degree of doneness.
Warm tortillas according to package directions. Top tortillas with fish, cilantro cream, avocados and toppings of your choice.
Adapted from Cooking Light March 2011