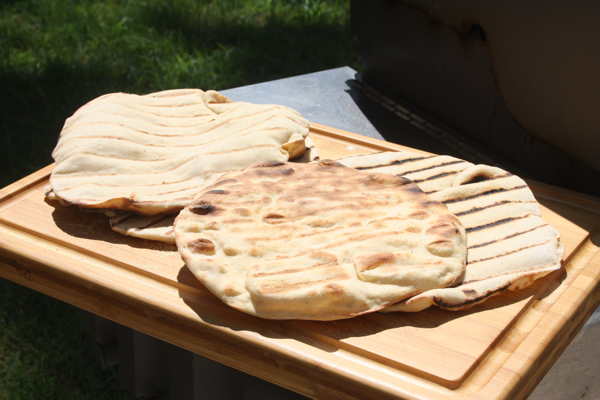 Grilled pizza is one of my all-time favorites and is a "spécialité de la maison" for us! I think it is the closest you can come to a wood-fired pizza at home. We love to grill pizzas in the summertime and top them with loads and loads of fresh veggies and this sauce. Each person can customize their pizza and the pizza is a great way to use the veggies you find at the farmer's market. YUM!
I found this recipe years ago in the newspaper and have been using it diligently ever since that discovery. The only complaint I have is that I can't really serve these to a crowd because of the limited grill space. We do on occasion double the dough and invite friends, but until we have an extra large grill there is quite a wait since our grill only holds two pizzas at a time.  We have experimented with grilling the crusts ahead of time and finishing the pizzas in the oven, but if you want to do this all on the grill, you will need multiple grills or a huge grill to feed a party.  You could easily adapt this and create hors d'oeuvres that would be sure to impress your guests.
Try this with your favorite pizza toppings. I would love to hear what your creation turns out like. My favorite is half pesto, half tomato sauce topped with zucchini, fresh tomatoes, mushrooms, sautéed onions, mozzarella, feta, and fresh basil.
Grilled Pizza Dough
Printer Friendly Recipe
1 package (1/4 ounce) active dry yeast (DO NOT USE Rapid Rise)
sugar (1 teaspoon plus a pinch, divided)
1 cup warm water (105-110 degrees)
2 tablespoons extra virgin olive oil
3 cups all-purpose flour
1 teaspoon salt
1/2 teaspoon freshly ground pepper
cornmeal
2 tablespoons extra virgin olive oil (for grilling)
Directions:
Sprinkle yeast and a pinch of sugar over water in a small bowl. Let stand for 5 minutes, until the yeast is bubbly. Stir in 2 tablespoons extra virgin olive oil.
Pulse together the flour, 1 teaspoon sugar, salt, and pepper in a food processor one or two times. Now, with the motor running, pour the yeast mixture through the feed tube; process for 1 minute. Place the dough in a large greased bowl turning to coat the top of the dough. Cover and let rise in a warm draft free place until doubled in bulk, about 1 hour. (You can also make this ahead cover and let it rise overnight in the refrigerator.)
Once the dough has doubled in size, punch the dough down and divide it into 4 equal pieces. Cover and let rest for 15 minutes.
Prepare the grill to medium-high heat.
On a lightly floured surface, roll each piece of dough into an 8-inch circle. Stack dough between sheets of waxed paper that has been sprinkled with cornmeal. (We have found that individual plates sprinkled with cornmeal are much easier to work with because you don't have to worry about the dough sticking to the waxed paper as it heats up outside waiting to be grilled–especially if it is really hot and humid outside.) Brush the tops of the dough with extra virgin olive oil. Grill dough, oil side down over medium-high heat until browned and firm, about 5-6 minutes. Transfer to a clean surface grilled side up (We return the grilled crust to the individual plate.). Top with desired toppings on the grilled side. Once topped, place assembled pizza back on the grill, closing the lid and cooking until the cheese melts and the toppings are softened (4-6 minutes).
Here is a printer friendly link to our favorite tomato sauce for pizza. Crushed Tomato Pizza Sauce