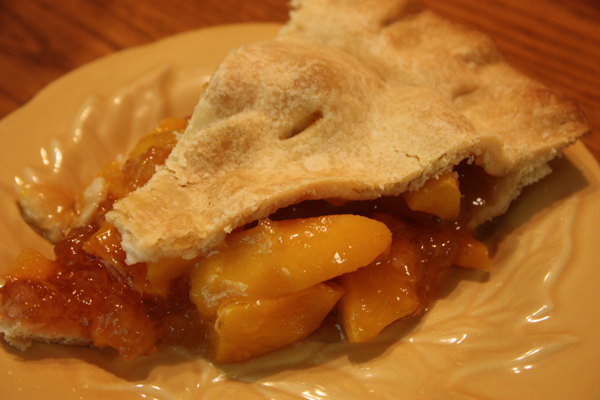 As we have been making our way through our box of peaches, I knew I had to make this pie for Jeffrey. It is one of his favorites. I first made this pie for him when we were dating. I thought, what better way to the heart of a Georgia boy than making homemade peach pie? I guess it worked! 🙂 Today is our 13th wedding anniversary. I am blessed to have Jeffrey beside me. He is an amazing husband, father, and my best friend. (Not to mention my go to computer guy.) I love you babe! Happy Anniversary!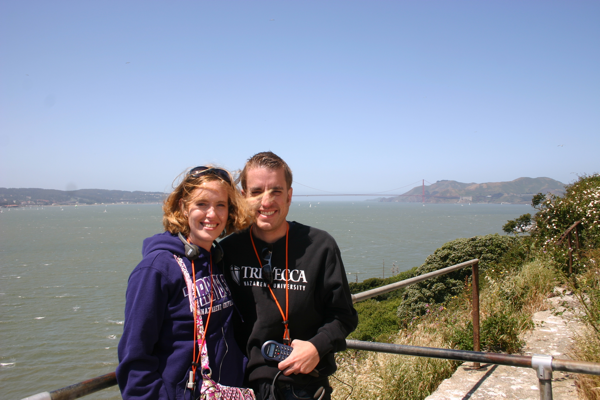 This pie is a nice reminder of our dating days and it is always nice to make it when peaches are in season but it also comes out well when you use frozen peaches as well. (I cut and bagged up quite a few peaches that we will be enjoying this winter.)
Georgia Peach Pie
Printer Friendly Recipe
Ingredients:
2 pie crusts (one for the top and bottom) either homemade or store bought
1/2 cup sugar (I used sugar in the raw this time.)
1/2 cup brown sugar
3 tablespoons quick cooking tapioca
1/8 teaspoon salt
5 cups peaches, peeled and sliced
1/8 teaspoon almond extract
1 tablespoon butter
Directions:
Preheat oven to 450 degrees.
Put one of the crusts in the bottom of a pie pan. Combine sugar, tapioca, and salt in a mixing bowl. Add peaches and toss gently to coat. Stir in almond extract. Pour peach mixture into pie crust and dot with butter. Put other pie crust on top, trim edges, seal and crimp the edges. Cut several slits in the top crust to allow the steam to escape as the pie cooks.
Bake at 450 degrees for 10 minutes. Reduce heat to 375 degrees and bake an additional 40 minutes or until crust is golden brown. (I find it useful to cover the edge of the pie with either a pie shield or aluminum foil to keep it from getting too brown for the last 20-30 minutes of baking.)