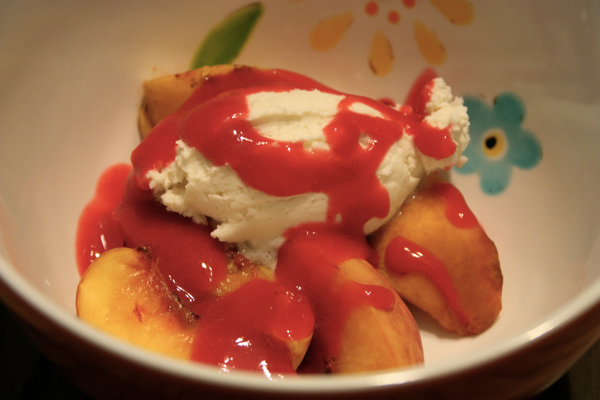 I am steadily working through the large box of peaches I purchased in South Carolina. I told you to be ready for some peach recipes so here is the second in less than a week. This treat knocked our socks off. First both of the fruits involved are on our list of favorites: peaches and raspberries.  When I saw a recipe that combined these two with mascarpone cheese and heavy whipping cream my interest was piqued. I knew I had to try it. I loved all of the components on their own so how could I not love them all together? The verdict, the sum is greater than the parts!
In case the picture above doesn't get your taste buds going, let me try to describe this desert with words.  The grilled peaches were warm and sweet.  On top of that you have a heavenly mixture of mascarpone whipped cream was cool (Wow was it tasty!).  Finally, you add the tart raspberry sauce and it all comes together beautifully. I know I will be incorporating the mascarpone whipped cream in future desserts because it was phenomenal. What do you think that would be good with?  I also have to confess that I had a waffle topped with the mascarpone whipped cream and raspberry sauce and it was a spectacular way to begin the day.
I can honestly say this is a dessert you can indulge in and not feel guilty. I am sure we will be enjoying this dessert quite a few more times this summer.
Grilled Peaches with Mascarpone Whipped Cream and Raspberry Sauce
Printer Friendly Version
Ingredients:
6 large peaches, ripe but firm
12 ounces fresh raspberries (frozen also work)
3 tablespoons water
1 1/2 tablespoons sugar
8oz mascarpone cheese (you can substitute cream cheese)
3/4 cup heavy cream
1 tsp vanilla extract
Directions:
For the grilled peaches:
Cut peaches in half, starting at the top where the stem is. Twist the halves to remove from the pit. Discard the pit. Cut each half into thirds or fourths if the peaches are large.
Heat the grill to medium heat. Place peaches cut side down on the grill grates. Grill for 3-5 minutes per side, or until peaches are tender and have grill marks.
For the raspberry sauce:
Puree the raspberries, water, and sugar in a blender until smooth. Then, strain through a fine mesh strainer to remove the seeds. (Press the solids against the strainer with a rubber spatula to get as much of the sauce as possible.) This can be made ahead and refrigerated for up to 2 days.
For the mascarpone whipped cream:
In a medium bowl, combine the mascarpone, heavy cream, vanilla, and remaining 1/4 cup of sugar. Beat the mixture with an electric hand mixer until soft peaks form. (This can be made ahead and refrigerated for a few hours.)
Serve warm, grilled peaches with a dollop (or more) of mascarpone whipped cream and drizzle raspberry sauce on top.
* If it's too hot to stand over the grill, feel free to use a grill pan inside. This is what I did.