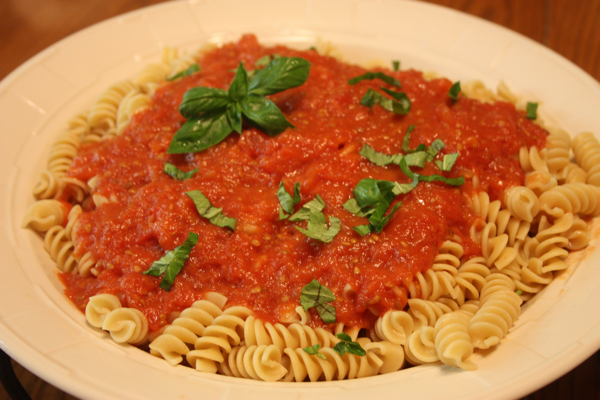 When I first saw this recipe, I must admit I was skeptical. I have made many sauces, but most of them have fresh herbs, garlic, vinegar this recipe calls for none of that. It relies on the sweetness of the tomatoes to bring you the flavor. I was not disappointed.
I made this for dinner last night because I was looking for something easy for dinner and something that could simmer while I showered after a day at the pool. It worked perfectly. All I had to do was cook the pasta, and then dinner was on the table not long after Jeffrey got home from work. Everyone enjoyed this sauce over our pasta. (Which is saying quite a bit at our table.) Tyler normally prefers his pasta with butter and cheese while William loves meat sauce. Jeffrey even committed as we were cleaning up that he really enjoyed the dinner and it was just right for a summer evening. (Not to heavy but he was satisfied after eating.)
While the recipe does simmer for 45 minutes, it is still manageable for a weeknight meal and an excellent choice for a meatless meal. We also thought this would make a great vacation meal in the future because the ingredients are so minimal.
Beyond Simple Tomato Sauce
Printer Friendly Recipe
Ingredients:
1 (28 oz.) can whole peeled tomatoes, with juices
1 onion, peeled and halved
5 tablespoons unsalted butter
Salt (to taste)
Directions:
Combine tomatoes, onion, and butter in a medium saucepan over medium heat. Bring to a simmer, then reduce the heat to keep the sauce at a low, steady simmer for 45 minutes. Stir occasionally, crushing the tomatoes against the side of the pot with a wooden spoon. Remove from the heat, discard the onion, and add salt to taste. (I didn't add any salt.) Serve warm over cooked pasta of your choice. Garnish with fresh basil and grated Parmesan cheese.