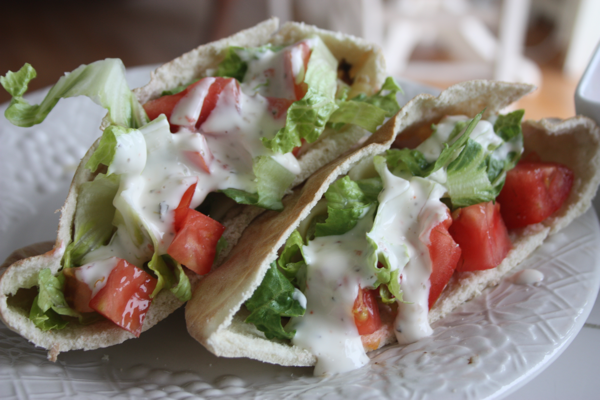 I hope you had a wonderful 4th of July. We are vacationing on Hilton Head Island, South Carolina and having a blast.  Our days are filled with lounging by the pool, playing in the ocean, bike riding, beach walking, reading and just plain relaxing.
I usually plan well ahead of time and have baggies filled with spices and baking treasures, but with a week filled with catering just before the boys and I headed to Knoxville to spend time with family meant I didn't have time for my usual pre-vacation prep work. We are making do just fine. (I did manage to scrounge together some things at my dad's.) When we vacation, I still like to cook and prepare some of our meals (not only does it save some money–we also can eat on our own schedules and not have to wait on seating in a restaurant with tired and hungry boys.) I do try to make easy fix meals and take advantage of the local items. We have been eating very well.
I also think of vacation as a time where I can stray from some of my rigid rules. At home if the kids wants chips, dessert, snacks my response is normally no.  On vacation, I am what Jeffrey calls a "softie"  and the buggy at the grocery store had a few more goodies than a normal shopping trip would have and I've said yes to thing the boys would normally never get. We are on vacation and a little splurging is necessary. (Did I mention that we bike quite a bit? When you bike over 7 miles each day you don't feel so bad about splurging on the extra piece of pie.)
We love to have pita sandwiches while at the beach. They are a great treat that we don't normally have when we are at home.  They are very easy to throw together and such a nice deviation from the normal cold-cut sandwich. I hope you enjoy them and give them a try when you are looking for something a little more exciting than the traditional sandwich.
Pita Sandwiches
Printer Friendly Recipe
Ingredients:
Pita pocket bread
turkey
ham
provolone cheese
chopped lettuce
chopped tomato
creamy italian dressing
Directions:
Carefully cut the pita bread in half so you have two half circles, gently open up the pocket being careful not to tear or puncture the bread. Set it aside. Cut the ham, turkey, and provolone into strips. Now fill your pita with the meat and top with the cheese. Microwave for about 30 seconds to slightly melt the cheese. Now top with lettuce, tomato, and a drizzling of dressing. Enjoy!