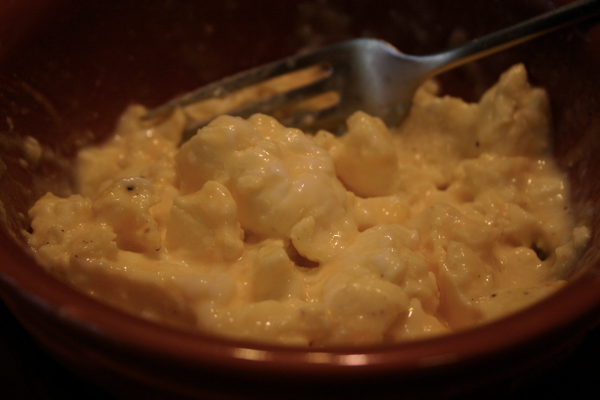 Our summer has been quite busy. It seems like our calendar for June has been jammed packed with swim lessons, soccer camps, VBS, and swim team. All of these activities have also added to the amount of food my children consume. It seems that lately William has been eating an early breakfast before going to swim team practice and then a second breakfast when he gets home. Throw in a breakfast for Tyler in the middle and I have been getting worn out from all the dishes.
That is where this recipe comes in. William is always starving when he gets home and wants something substantial so eggs are great, but I dislike cleaning all of the dishes…one for whisking the eggs, a skillet for cooking, and then the plate for serving. With these eggs I do everything in one bowl! It is excellent. No extra cleanup!
I normally keep some crumbled cooked sausage in the freezer so these eggs can easily be transformed into a breakfast burrito to add variety to the menu. All you need is a flour tortilla, cooked sausage or bacon and you are set. If you like eggs give this a try it is super easy and the clean-up is no more than you would have with a bowl of cereal.
Individual Scrambled Eggs with Cheese
Printer Friendly Recipe
Ingredients:
2 eggs
2 tablespoons milk
salt and pepper to taste
2 tablespoons shredded cheese
Directions:
In a microwave safe single serving bowl, combine eggs, milk, salt, and pepper. Whisk together with a fork. Microwave (uncovered) on high for 30 seconds; stir with a fork. Continue cooking in 30 second intervals until the eggs are almost set. (It took me a total of 1 minute and 30 seconds.) Remove from the microwave. Sprinkle with cheddar cheese and cover with paper towel or napkin for about 1 minute. (This allows the egg to set completely and the cheese to melt.) Serve immediately.