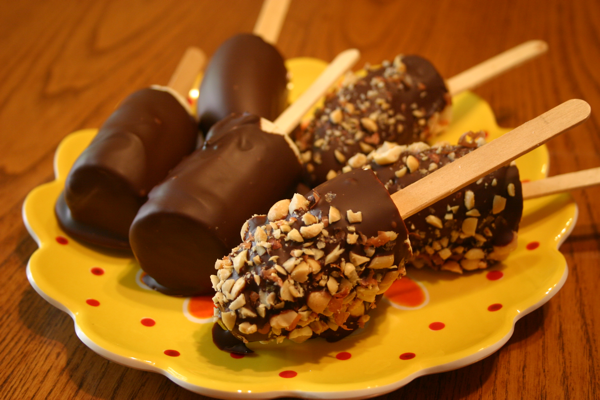 If you are anything like me, you are always looking for healthy snacks for the kiddos. While this one is drenched in chocolate (semi-sweet), it still makes a fun fairly healthy snack for the kids. (I would much rather have them munching on this than a bag of store bought cookies. :))
My children love bananas, but it seems like every time I have turned around this summer Tyler has been asking for candy. We don't eat a lot of candy at our house and more times than not I am throwing out Halloween candy to make room for Christmas candy and Christmas candy to make room for Easter Candy. Still, for some reason Tyler has had a hankering for it lately. I thought this would be a great alternative. I was mostly right. Tyler thought the chocolate was too much so he pealed it off and ate the banana. (I think he would have liked a milk chocolate better.) William, however, loved his and thought the crushed peanuts on his were delicious. It also seemed like it was the perfect sized treat. Not too much but not too little either.
So if you are looking for a semi-healthy fun treat this summer. This may just be what you are looking for. I will keep you posted on other fun things we try. I know I can never get enough snack ideas.
Chocolate Covered Bananas
Printer Friendly Recipe
Ingredients:
2 ripe bananas
16 ounces semi-sweet chocolate
crushed peanuts (if desired)
Popsicle sticks
Directions:
Cut each banana in 3 equal pieces and push the popsicle stick through one end. Set aside.
Break the chocolate bars into pieces and place in a glass 2 cup measuring cup. Microwave the measuring cup on high in 30 second increments (stirring after each 30 seconds) until the chocolate is melted and smooth.
Dip each banana in the chocolate twirling it to remove any excess chocolate. Sprinkle with crushed peanuts if desired. Refrigerate until chocolate is set. Enjoy!
*Bananas will keep in the fridge for 2 days.