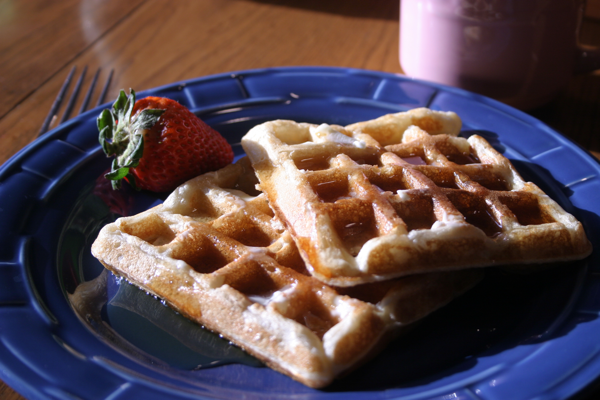 I'm sorry this post is a day behind my normal schedule. Jeffrey had some training for work in San Francisco, and I decided that I needed to tag along. We had a fabulous time, but I am a little jet lagged and I was without Internet while in San Francisco.
I have decided that I am an untourist. Can I call myself that? While in San Francisco, I had a great time, mostly just doing my own thing. Yes, I did some of the touristy things.  I had sour dough bread, and I visited some of the sights. Those things were good and fun.  If I'm honest, my favorite part was experiencing the different foods in the spots that locals would visit (not necessarily the spots that the tourism department tells you to go to experience San Francisco.)
I loved the Ferry Building and spent hours browsing and taking in everything. (It was a foodie's delight.) I was also fortunate that on Thursdays they have a Farmer's Market and street food. It was fantastic! I hopped on the public transportation early and headed to the Farmer's Market hoping to get some browsing in before grabbing some lunch and meeting Jeffrey for a picnic. Unfortunately, I got on the bus going the opposite direction. When I finally got myself turned back around and to the ferry building, there was no time for browsing. I quickly got in line and picked out a fish sandwich from a Korean stand and a wood-fired pizza from another (in case my adventurous pick was a little too adventurous) then headed in to a patisserie for a sweet treat. After getting all of my goodies, I started walking to meet Jeffrey. We enjoyed a delicious lunch by the bay and even got to see a leopard shark swimming in the bay. What a treat!
Friday, we ventured out with some friends who lived in the area (thanks again Gary and Susannah!) and went to the Mission District. It was definitely off the tourist's beaten path. I loved it! We decided on a fun pizza place. The food was phenomenal. We started out with a swiss chard appetizer and then had an assortment of three different pizza's that we shared. One of the pizzas had a fresh cream over it and let me tell you the wheels in my head are already spinning about how to recreate this at home. YUMMY! For dessert we were headed to a bakery, but when we got there they were sold out of the desserts we were hoping for so we headed down the street to a coffee shop. We all shared bites of scrumptious treats and I even had a scoop of local ice cream with a shot of espresso (also local) poured on top. We all left happy.
On Saturday, I ran (literally) to take/drag Jeff to the Blue Bottle Coffee shop for one of the best coffees I have ever had. (I had one of Thursday and had been raving about it nonstop.) They also offered a waffle that you ate out of a coffee filter (I know it sounds crazy but it was amazing).
So why am I sharing all of these silly stories from my trip? I think experiencing food from off the beaten path is an excellent way to experience places you visit. Talk to the locals, and stay away from the national chains. You may find that you get to see a completely different part of the city and you may even have shorter lines and less frustration in the process. You might even make some great food memories.
Jeffrey and I came back from San Francisco with lots of food memories. I even made him go back to the bakery where the desserts were sold out the night before so I could experience the desserts even though it was quite out of our way. (The desserts were fabulous and I am already searching for the cookbooks for the bakery.) Honestly the food and exploring off the beaten path are the memories that are the fondest for Jeffrey and myself.
While I don't have a secret recipe from the trip to share, I thought I would share a wonderful waffle recipe in honor of the waffle I had on the trip. I will go ahead and apologize because you will need to make sourdough starter before you can make the waffles. Go ahead and make the starter now and in a week when you make the waffles you will thank me. Jeffrey made these waffles for me on my birthday and they were wonderful. They are quite different from normal waffle. I don't think you will be disappointed. Even if you never make sourdough bread just having the starter on hand for these waffles will be worth the effort of keeping the starter going. I hope you enjoy them as much as we do.
Sourdough Waffles and Sourdough Starter
Sourdough Starter
1 package active dry yeast (DO NOT USE QUICK RISING YEAST)
2 1/2 cups warm water (105-115 degrees)
2 cups all-purpose flour
1 tablespoon sugar or honey
In a large mixing bowl dissolve yeast in 1/2 cup of warm water. Stir in the remaining water, flour, and sugar or honey. Stir till smooth. Cover the bowl with cheesecloth. Let stand at room temperature for 5 to 10 days or until the mixture has a sour fermented aroma, stirring 2-3 times each day.
When fermented, transfer Sourdough Starter to a 1-quart jar. Cover with cheesecloth and refrigerate. Do not cover with a tight-fitting lid. If starter isn't used within 10 days, stir in 1 teaspoon sugar or honey. Repeat every 10 days until used.
To use starter, bring desired amount to room temperature. For every 1 cup used, stir 3/4 cup flour, 3/4 cup water, and 1 teaspoon sugar or honey into the remaining amount. Cover and let stand at room temperature at least 1 day or until bubbly. Then refrigerate for later use. Makes about 2 cups.
Adapted from Better Homes and Gardens Old-Fashioned Home Baking
Sourdough Waffles
Ingredients:
For the overnight sponge:
2 cups all-purpose flour
2 tbsp. sugar
2 cups buttermilk
1 cup sourdough starter, straight from the refrigerator
For the waffles:
2 large eggs
¼ cup vegetable or canola oil, or melted butter
All of the overnight sponge
¾ tsp. salt
1 tsp. baking soda
Directions:
To make the overnight sponge, combine the flour, sugar, buttermilk and sourdough starter in a large mixing bowl. Mix well to blend. Cover and let rest overnight at room temperature.
The next morning, preheat your waffle iron according to the manufacturer's instructions. In a small bowl, combine the eggs and oil or butter. Add to the sponge you made last night. Mix in the salt and baking soda, stirring well to combine. The batter will bubble. (This is pretty cool when it happens.) Pour the batter into the preheated waffle iron and bake according to the manufacturer's instructions. Serve with warm maple syrup and fresh fruit if desired.