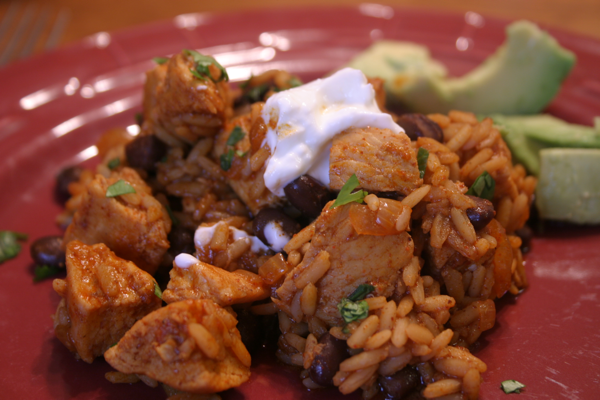 I hope everyone had a wonderful weekend. I hope that all of you who are mothers had a  Happy Mother's Day. I had a fabulous weekend. Friday night we had an excellent school carnival, followed by soccer on Saturday. Sunday was a fun family day. Jeffrey fixed popovers, smoothies, and coffee for me for breakfast, and we went out for lunch followed by an afternoon outside with friends. It was nice just to take some time and relax.
I can't believe that in a few short weeks it will be summer break for my boys. I am definitely looking forward to a slower calendar (who am I kidding by the time you put in our pool schedule we are booked.) 🙂 I'm not counting on my lazy days of summer yet, so it is nice to have some easy one pot meals on the menu. This dish is exactly one of those recipes for us. I love one pot meals! Especially one pot meals everyone eats without complaining! It is a even greater thing if it is a meal that I almost always have everything on hand to make. This one fits the bill!
The first time I made this recipe, I was a little concerned because it does have quite a bit of chili powder. With the combination of the black beans and rice it really works and all three of my boys really enjoy it. We like to top ours with cilantro (which is in abundance in my garden right now), sour cream and avocado. Feel free to top it with your favorite taco toppings and you won't be disappointed.
Red Chile Chicken with Rice and Beans
Printer Friendly Recipe
Ingredients:
2 tbsp. canola oil
1 – 1 1/2 pounds boneless, skinless chicken breasts
2 1/2 tablespoons chili powder, divided
1 medium onion, chopped
1 cup long-grain rice
4 cloves garlic, minced
1 1/2 cups chicken broth
1 (15 oz.) can black beans, drained and rinsed
green onions, cilantro, salsa, sour cream, avocado for serving
Directions:
Heat the oil in large heavy pot over medium-high heat. Season chicken breasts with salt and half of the chili powder making sure to season both sides well. Place the chicken in the hot oil and brown on each side, 2-3 minutes. Remove chicken to a plate and cover with foil. (The chicken will not be completely cooked at this time.)
Add the onion and rice to the pot (depending on how much oil is remaining in the pot you may need to add a little bit more). Stir for several minutes, until the rice turns opaque. Add the garlic and the remaining chili powder to the pot. Cook for 1 minute, stirring, then add the chicken broth and salt to taste. Stir well. Bring the mixture to a boil, then reduce to a simmer on medium-low heat. Cover and cook for 10 minutes.
Cut the chicken breasts into 1-inch pieces and add them to the pot along with the beans. Recover the pot and allow to cook 12 minutes longer. (Until the chicken is cooked through and the rice is cooked.) Remove from heat and keep covered letting it rest for 5 minutes. Fluff the rice mixture with a fork and garnish with cilantro or green onions.